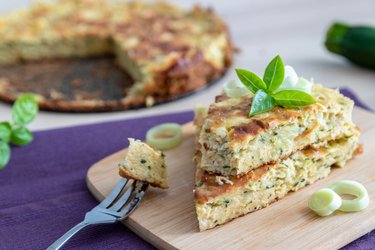 Savory fit zucchini pie with cottage cheese
Share this recipe with a friend:
Zucchini and cottage cheese are peeking at you from the fridge and you don't know what to do with them? Prepare this delicious savory fit zucchini pie with cottage cheese and leeks, you can enjoy either as a healthy breakfast or a lighter dinner full of protein. For this recipe, you will only need a few easily available ingredients that you probably have at home already.
The recipe for this salty zucchini pie is extremely simple and relatively quick to prepare. Don't forget to squeeze out the zucchini properly in advance and get rid of as much water as possible, otherwise, this savory pie would be too wet. If you would like to prepare a taller and firmer zucchini pie, you can add more flour into the dough. For a gluten-free version of the zucchini pie, use buckwheat flour in the recipe.
Salty fit zucchini pie has high protein content and at the same time is relatively low-fat, you will find over 12 g of protein in 1 piece. You can always change up the recipe to your preferences or the contents of your refrigerator - you can add other vegetables, corn, grated cheese, red onion, tuna, or even pieces of grilled chicken or salmon. If you are feeling creative and want to improvise, this salty fit zucchini cake is perfect.
I recommend everyone to try this recipe - you will love it because of its simplicity, excellent flavor, and, last but not least, great nutritional values.
Ingredients
500g of grated zucchini
7 eggs (medium)
80g of spelt flour (or buckwheat) (I recommend this one)
1/2 leek
200g of cottage cheese (without brine)
2-3 cloves of garlic
1/2 tsp of salt
1/4 tsp of ground black pepper
Instructions
Squeeze out the grated zucchini as much as possible using a kitchen towel.
In a bowl, combine it with eggs, spices, salt, crushed cloves of garlic, finely chopped leeks, and cottage cheese without the brine.
Pour the dough into a baking mold lined with baking paper or into a silicone one (about 25 cm in diameter ).
Bake the zucchini cake for 45 minutes at 200 degrees until golden.
Share this recipe with a friend:
| | | |
| --- | --- | --- |
| | Preparation time | 55 minutes |
| | Yields | 8 slices |
Nutritional information /
Calories
148 Kcal
Carbohydrates
10 g
Fiber
2 g
Proteins
12 g
Fat
7 g
I am a fit food wizard nutritionist and I conjure up these healthy and tasty fitness recipes.
My goal is to show you that eating healthy can be easy-breezy.
Lucia Wagner
Comments