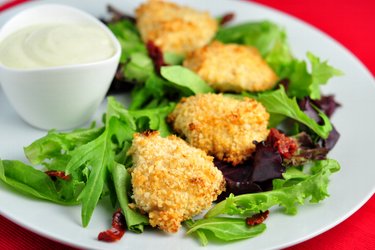 Simple baked chicken nuggets in yogurt crust
Share this recipe with a friend:
Healthier, but no less tasty baked chicken nuggets in yogurt crust, served with a delicious yogurt-mustard sauce. You will love this simple recipe ;)
If you have recently indulged in nuggets in your favorite fast food and immediately regretted your decision, this is the recipe for you. You don't need to give up tasty food if you just prepare a healthier version. And in this version, you can enjoy nuggets without remorse. I present to you healthy chicken nuggets you will fall in love with after the first bite. Prepare these baked fitness nuggets for lunch or dinner for the whole family. When I baked them for a family celebration, all the children immediately ran to try them and they enjoyed them very much.
I prefer to use whole wheat breadcrumbs or a mix of whole wheat breadcrumbs with ground almonds to coat the nuggets. Celiacs can bread them in ground almonds or corn crumbs to prepare a completely gluten-free recipe. The recipe for these fit chicken nuggets is rich in protein and, compared to classic nuggets, it contains only a minimal amount of fat.
The recipe is absolutely simple, see for yourself and try these crunchy oven-roasted chicken nuggets in a yogurt crust. Be sure not to miss my light yogurt-mustard sauce with honey, as it is the perfect tasty addition to the recipe. Use preferably non-fat Greek yogurt for a higher protein content.
Ingredients
400g of chicken breasts
200g of whole wheat breadcrumbs (or corn crumbs/ground almonds) (I recommend these)
200g of plain yogurt
1 tsp of salt (I recommend this one)
1 tbsp of garlic powder
pinch of ground black pepper
2 tbsp of grated Parmesan cheese (optional)
for the sauce:
250g of plain yogurt
2 tbsp of mustard
1 tbsp of honey (I recommend this one)
Instructions
Wash the chicken breasts and cut them into smaller pieces.
In a bowl, mix yogurt with salt, pepper, and grated Parmesan.
Spread the yogurt mixture on the chicken pieces and then coat them in whole wheat breadcrumbs, corn crumbs, or ground almonds.
Place the breaded pieces on a baking sheet lined with baking paper and bake for 30-35 minutes at 190 °C until crispy. You can turn them in the middle of baking.
Prepare the sauce by mixing yogurt, mustard, and honey together. Before serving, you can let it set in the refrigerator.
As a side, you can choose either a salad, potatoes or rice.
Share this recipe with a friend:
| | | |
| --- | --- | --- |
| | Preparation time | 45 minutes |
| | Yields | 4 servings |
Nutritional information /
Calories
336 Kcal
Carbohydrates
37 g
Fiber
4 g
Proteins
40 g
Fat
4 g
I am a fit food wizard nutritionist and I conjure up these healthy and tasty fitness recipes.
My goal is to show you that eating healthy can be easy-breezy.
Lucia Wagner
Comments
✉️ Send me your favorite recipe.
Do you like to cook healthy and want to publish your favorite recipe on Fit Food Wizard?
Email
it to me and I will be happy to try it and publish it.