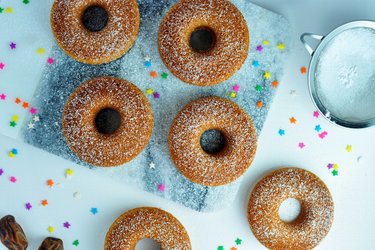 Simple baked oat donuts
Share this recipe with a friend:
Simple healthy baked oat donuts with a touch of cinnamon. You can prepare them without any sugar, just replace the honey with dates. Treat yourself to these fit donuts for breakfast, lunch, or snack without any remorse - they are only 114 Kcal each! Moreover, these healthy donuts are without oil, eggs and can be prepared vegan. Who could resist them? ;)
If you do not have a donut mold, you can prepare muffins from the dough, for example. These oat donuts are sweetened only with honey or dates and one donut contains only 2 g of fat. No wonder these oat donuts are low-calorie and, thanks to the used ingredients, also much easier to digest than donuts you know from the store. Since they are baked, you do not need any oil. If you, however, do not have silicone molds, it is good to smear the mold with a little bit of coconut oil. I recommend using finely ground oats (almost ground into flour) rather than oat flour as the donut consistency will be better and more fluffy this way.
If you want to sweeten these baked oat donuts with dates, soak them in water for at least 30 minutes before preparing the dough to soften them, so they will blend easily. These healthy and diet-friendly oat donuts are ready in half an hour. Top them with your favorite icing or sprinkle with sifted coconut flour (for sugar effect) and offer them to your friends, colleagues, guests, or children. No one will guess they are healthy and fit. Enjoy them as a sweet breakfast or dessert, I'm sure you'll get to love them.
1 cup = 250 ml
Instructions
Tip: If you want to use dates instead of honey in the recipe, let them soak in warm water for at least 30 minutes and then mix them into a smooth paste.
First, mix the dry ingredients together, then mix in the rest of the ingredients.
Divide the resulting dough into a silicone donut mold. If you use a mold other than silicone, smear it with a little bit of coconut oil beforehand.
Bake the donuts for 15-18 minutes at 180 degrees.
For the sugar effect, sprinkle the finished donuts with coconut flour, or use another icing you love.
Donuts can also be served with high-quality homemade jam.
Share this recipe with a friend:
| | | |
| --- | --- | --- |
| | Preparation time | 25 minutes |
| | Yields | 6 pieces |
Nutritional information / 1 piece
Calories
114 Kcal
Carbohydrates
21 g
Fiber
2 g
Proteins
3 g
Fat
2 g
I am a fit food wizard nutritionist and I conjure up these healthy and tasty fitness recipes.
My goal is to show you that eating healthy can be easy-breezy.
Lucia Wagner
Comments