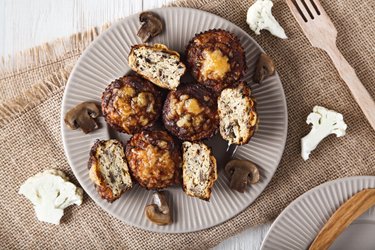 Skinny Cauliflower Pizza Muffins
Share this recipe with a friend:
Not only fried cauliflower makes us alive. If you adore the smell of fresh cauliflower reminding a really blossomed vegetable garden, this recipe will surely please you. Cauliflower is a vegetable of many faces and these healthy cauliflower pizza muffins are just the proof.
I haven't been identified with the idea of ​​creating another cauliflower classics. I wanted something healthy, quick and tasty but also something unusual. Cauliflower is nutritionally balanced vegetable and provides necessary nutrients for the body, strengthens immunity and is beneficial for digestion. Its low carbohydrate level is excellent for getting that bikini body you worked so hard for.
Combined with cottage cheese or quark, the cauliflower will make a fine and tender mixture, that can be easily flavored with mushrooms and ham, to your taste. Golden baked muffins will literally melt on your tongue, I know what I'm saying.
In addition, the recipe contains the necessary amount of protein, so it is not only tasty, but nutritious as well. At the cauliflower muffins recipe, you will find out that even a pizza can be completely healthy and tasty delicious dinner without any guilt, even in such an unusual form. These low calorie pizza muffins can be served alone, but I also enjoy them with homemade tomato sauce. To prepare this sauce, I just blend the tomatoes with oregano and salt.
This recipe also goes well as a satisfying treat for visitors, who will start to come regularly after tasting this delicious cauliflower meal.
Ingredients
½ medium sized cauliflower
8 Tbsp cottage cheese or quark
2 eggs
mushrooms, ham (to taste)
30g (1 oz) shredded cheese
black pepper, oregano, garlic powder (to taste)
Instructions
Cut the cauliflower head into small pieces – as small as possible.
You can cut it using a knife or blend in a blender.
Place the cut cauliflower into a bowl and add eggs and cottage cheese or quark.
If using mushrooms, sauté in a bit of olive oil in a pan and then add into the cauliflower mixture.
Fold in chopped ham and spices to taste.
Portion the mixture into silicone muffin cups.
In case you're using a muffin pan, don't forget to grease/spray the pan with oil.
Push the dough down as much as possible so the muffins won't fall apart.
If desired, you can sprinkle the top with grated cheese, so that the muffins will be even tastier.
Bake muffins at 230 degrees Celsius (450 °F) for 25 to 30 minutes in a preheated oven.
Remove muffins from the cups after letting them cool for about 10 minutes, and serve with or without tomato sauce.
Share this recipe with a friend:
| | | |
| --- | --- | --- |
| | Preparation time | 35 minutes |
| | Yields | 12 servings |
Nutritional information /
Calories
38 Kcal
Carbohydrates
1 g
Fiber
0 g
Proteins
4 g
Fat
2 g
I am a fit food wizard nutritionist and I conjure up these healthy and tasty fitness recipes.
My goal is to show you that eating healthy can be easy-breezy.
Lucia Wagner
Comments