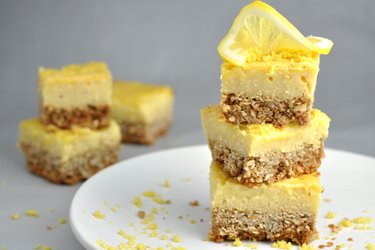 Sweet and Sour Lemon Dessert without Flour
Share this recipe with a friend:
Delicious, healthy sweet and sour lemon dessert without flour or refined sugar, suitable especially for hot summer days. Lemon will pleasantly wake up your senses and thanks to oats and coconut, you will feel great after eating this cake. Such flourless cakes are easier to digest and thus don't burden your body.
Oats contain a lot of insoluble and soluble fiber, which promotes proper digestion, helps to fight high blood pressure and will fill you up for a long time. Coconut supports the immune system and digestion too, reduces bad cholesterol and normalizes blood sugar levels. Together, they create a supple, tasty and healthy cake base that will make a pleasant aroma spreading through your entire home while baking. This dough can be also used as a flourless cake base for fruit or other cakes.
If you are a sweet and sour desserts lover, you will totally fall for this lemon and honey filling. This healthy lemon dessert is also suitable for the Christmas table as a pleasant change for your taste buds, but it will also pop out among traditional Easter desserts.
Preparation of this sweet and sour lemon dessert won't take much time and is so easy, that your offspring can help you too. Just blend and stir. And if your kitchen is lacking a good and reliable blender, I definitely recommend this one: (I recommend this one) .
Instructions
Blend or grind oats and coconut into almost fine flour.
In a bowl, mix them with remaining dough ingredients and combine them together thoroughly.
Pour the dough into a silicone or other baking form lined with parchment paper (e.g. bread form) and bake for 8-10 minutes at 180 degrees Celsius (355 degrees Fahrenheit) until golden.
In a bowl, whisk eggs with honey, corn starch, lemon juice and lemon peel.
Pour the filling over the baked cake base and bake the whole lemon dessert for 25 more minutes at 150 degrees Celsius (300 degrees Fahrenheit).
After baking, let the cake cool down completely and then let it set for at least 4 hours in refrigerator.
Share this recipe with a friend:
| | | |
| --- | --- | --- |
| | Preparation time | 45 minutes |
| | Yields | 10 slices |
Nutritional information / 1 slice
Calories
183 Kcal
Carbohydrates
18 g
Fiber
2 g
Proteins
6 g
Fat
11 g
I am a fit food wizard nutritionist and I conjure up these healthy and tasty fitness recipes.
My goal is to show you that eating healthy can be easy-breezy.
Lucia Wagner
Comments