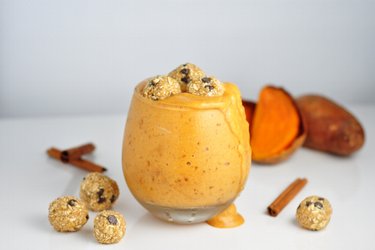 Sweet potato ice cream with chocolate oat balls
Share this recipe with a friend:
Tasty and healthy sweet potato ice cream sweetened with dates, complemented by chocolate oat balls. It is refreshing, satiating, it will satisfy your sweet cravings and provide you with many vitamins and minerals.
You must have noticed that sweet potatoes can be used for a variety of sweet dishes, including desserts. Have you ever had sweet potato ice cream though? If not, it's time to change that! This healthy ice cream will please you with its delicious taste but also with a high content of vitamins and minerals, as well as fiber, which is not something any regular ice cream can promise you.
It is also low fat, which is not the usual quality of ice cream. The ice cream is sugar-free, sweetened only with dates. Oat balls are sweetened with a little honey. You can also add protein powder (preferably vanilla) to the ice cream, which will make it even creamier and increase its protein content. One serving of this ice cream is quite large and satiating and, as I mentioned, rich in nutrients, especially vitamin A.
Sweet potato ice cream is healthy and simple for preparation and I recommend serving it with these no-bake oat chocolate balls, that complement the taste perfectly.
Instructions
Place the sweet potatoes on a baking sheet and bake them until soft at 200 °C. Potatoes the size of a fist need to be baked for 30 minutes, larger for 45 minutes.
Let the baked potatoes cool down and then cut them, hollow out the inside, mash the inside with a fork, and put the mash in a container with a lid.
Add milk to the container and freeze the mixture for at least 5 hours.
In a blender, mix oats, cashews, honey, cinnamon, and apple puree as smoothly as possible.
Add the chocolate chips into the oat mixture and shape it into small balls. Store them in the refrigerator until the ice cream is served.
Before serving, remove the frozen mixture from the freezer, let it thaw for 5 minutes and mix it together with other ingredients for smooth ice cream. If this is very difficult, add a little fresh milk to the blender.
If you do not like the taste of sweet potatoes, I recommend adding a scoop of protein powder.
Serve the ice cream into bowls, garnish with the balls, and serve immediately.
Share this recipe with a friend:
| | | |
| --- | --- | --- |
| | Preparation time | 45 minutes |
| | Yields | 2 servings |
Nutritional information / 1 serving
Calories
195 Kcal
Carbohydrates
38 g
Fiber
4 g
Proteins
5 g
Fat
3 g
I am a fit food wizard nutritionist and I conjure up these healthy and tasty fitness recipes.
My goal is to show you that eating healthy can be easy-breezy.
Lucia Wagner
Comments