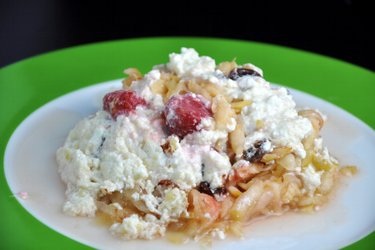 Baked Quark Pudding with Fruit
Share this recipe with a friend:
I remember my childhood at grandma, she was able to prepare an excellent baked rice pudding, and we kids couldn't get enough of it. I am convinced that if grandma knew the recipe for this baked quark pudding with fruit without rice, sugar and flour, she would prepare it as great and tasty, but even healthier.
The basis of the baked quark pudding with fruit is made of quark, which is rich in minerals and proteins. It will fill up the body enough and will supply it with the necessary calcium. Here comes the fruit, in the form of apples charged with vitamins and sweet strawberries and bananas, rich in fiber and potassium. Instead of sugar, sprinkle the fruit with warm spices in the form of cinnamon - not only will it make your entire apartment smell beautifully, but it will give the perfect taste to the baked pudding. Yogurt lovers will reach the top of the flavor with this baked pudding, and on top of that, they will strengthen their bones, soothe the stomach and will not even endanger their flat tummy. Entire baked quark pudding with fruit is low calorie and also rich in fiber and protein.
This healthy baked quark pudding with fruit is easy to prepare and, moreover, very tasty, even without the addition of rice, sugar or flour. You can prepare it as a delicious lunch, but it also goes well as a dessert or a warm breakfast. Its basis is formed with this healthy and excellent triple combination - fruit, quark and yogurt.
Ingredients
2 apples
200g (7oz) strawberries (or other fruit)
2 bananas
200g (7oz) quark
150g (5.3oz) Greek yogurt
nuts, dried raisins, shredded coconut… (optional)
cinnamon (optional) (I recommend this one)
1 egg (optional)
Instructions
Grate or cut apples into small pieces.
Place apples into a smaller baking pan (e.g. bread form) and scatter strawberries or other fruit evenly over the apples.
You can sprinkle the fruit with cinnamon.
In a bowl, mash bananas with a fork and add quark and yogurt.
Blend the mixture.
You can also add nuts, shredded coconut, or dried raisins to taste.
Pour the quark mixture over fruit and bake at 180 degrees Celsius (350 °F) for 30 to 35 minutes.
Take the pudding out when the top begins turning brown.
Serve either warm or cold.
The baked pudding won't keep its form, but it will be delicious! If you want it to keep the form, add egg into the quark mixture before baking.
Share this recipe with a friend:
| | | |
| --- | --- | --- |
| | Preparation time | 40 minutes |
| | Yields | 2 servings |
Nutritional information / 1 serving
Calories
367 Kcal
Carbohydrates
57 g
Fiber
10 g
Proteins
28 g
Fat
1 g
I am a fit food wizard nutritionist and I conjure up these healthy and tasty fitness recipes.
My goal is to show you that eating healthy can be easy-breezy.
Lucia Wagner
Comments