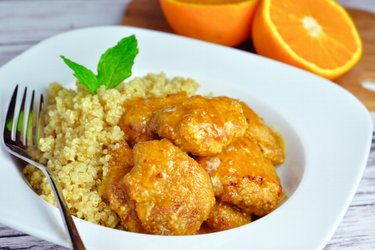 Chicken breasts in orange sauce with quinoa
Share this recipe with a friend:
Try these delicious, juicy, roasted chicken breasts in a crunchy crust and orange sauce that I served with quinoa - but you can use any side dish you prefer. We loved the combination of meat and this simple orange sauce very much at home, so I bring you another simple and nutritious recipe with an exotic touch. This tasty fitness lunch will smell up your entire apartment with a pleasant aroma.
We have already made several recipes with orange sauce. We already had , and even . This time we will prepare chicken breasts in the style of chicken nuggets. Of course, we will not deep fry them in oil but bake them in the oven, which will reduce the amount of fat in the recipe and the meal will remain easily digestible. Nevertheless, these chicken nuggets will be crunchy, juicy and so delicious!
You can use wholemeal breadcrumbs or even ground almonds to bread chicken pieces. Be sure not to omit orange peel in the recipe. It will give the food the desired distinctive orange taste and the exotic charm. Try these fantastic fitness chicken breasts in orange sauce with quinoa, you will love this recipe from the first time you taste it.
Instructions
Wash the oranges thoroughly and dry them.
Cut the chicken breast into smaller nuggets and coat them with the ingredients for the marinade.
Let the meat rest in the marinade, ideally for at least 2 hours.
Then cover the marinated chicken nuggets in crushed eggs and wrap them in breadcrumbs or ground almonds.
Place the chicken pieces on a baking sheet lined with baking paper and bake them for 30-35 minutes at 190 degrees until crispy. You can turn them in the middle of baking.
In the meantime, cook the quinoa with spices and salt in water, or prepare another selected side dish.
Add vegetable broth together with orange juice and orange peel to a hot deep pan, let it simmer, and then mix in the honey.
In the end, add starch mixed in 2 tablespoons of water into the sauce.
Boil the sauce for a while to thicken and remove from heat.
Mix the baked chicken nuggets into the orange sauce and serve.
Share this recipe with a friend:
| | | |
| --- | --- | --- |
| | Preparation time | 50 minutes |
| | Yields | 4 servings |
Nutritional information / 1 serving
Calories
655 Kcal
Carbohydrates
78 g
Fiber
10 g
Proteins
53 g
Fat
10 g
I am a fit food wizard nutritionist and I conjure up these healthy and tasty fitness recipes.
My goal is to show you that eating healthy can be easy-breezy.
Lucia Wagner
Comments