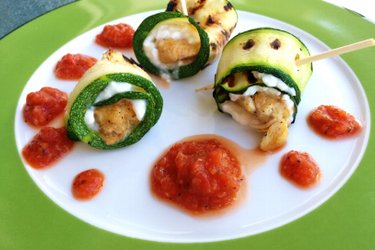 Chicken-Zucchini Rolls with Cottage Cheese and Tomato Sauce
Share this recipe with a friend:
I have another tasty fit recipe with zucchini and chicken meat for you. You will definitely fall in love with the perfect flavors combination in this fitness recipe for chicken-zucchini rolls. It is a healthy delicacy, ideal for lunch or dinner. The meal can take a pride in high protein content, low carbohydrates and minimum fat content.
Various interesting recipes can be conjured out of zucchini, which can easily replace any side dish. In this recipe we will prepare it in a form of rolls filled with chicken meat and cottage cheese. These chicken-zucchini rolls contain up to 62 grams of protein and on the other hand only 6 grams of carbohydrates per serving, which is absolutely amazing, isn't it? This recipe fits perfectly to any diet, for weight loss or simply to lighten up your menu. I prefer to prepare such light meals during the summer.
And besides that these diet chicken rolls ** with zucchini have the perfect nutritional values, they are also extremely **tasty. In combination with this homemade tomato sauce they are almost irresistible. And you will not even need any side dish to them. Regarding cheese, I prefer to use grated mozzarella.
Try this tasty and healthy gluten-free food with low carbohydrate content. It fits great in the diet menu of all healthy lifestyle lovers. I hope you will enjoy it at least as much as we do.
Ingredients
1 big or 2 smaller zucchinis
2 Tbsp cottage cheese
2 chicken breasts
handful of grated cheese
pepper and garlic powder
2 to 3 ripe tomatoes
⅓ onion
2 cloves garlic
1 Tbsp vinegar
black pepper, salt
fresh herbs (thyme/basil/oregano)
Instructions
Prepare the sauce first.
Cut tomatoes, onion, and garlic into smaller pieces and blend in a blender.
Pour the tomato mixture into a pot, add spices, salt, and a spoonful of vinegar.
Stirring occasionally, cook until done, letting enough water evaporate from the sauce.
Cut zucchini lengthwise into thin slices with a knife or peeler. The slices do not have to be perfectly thin, if you can bend them, then it's okay.
In a grilling pan, roast these zucchini slices on both sides until tender, approximately 2 minutes on each side.
In a different pan (or the same one after roasting the zucchini), broil chicken breasts (cut into pieces).
Spice them up to taste.
When done, remove from heat, sprinkle with grated cheese, and let the cheese melt.
Spread every zucchini slice with approximately 1 tablespoon of cottage cheese.
Place a piece of chicken breast close to the edge of each zucchini slice, and roll.
If rolls are falling apart, either they are too thin or too thick – pierce the rolls with a skewer.
Remove the sauce from heat, fold in fresh herbs, and pour over the rolls.
Share this recipe with a friend:
| | | |
| --- | --- | --- |
| | Preparation time | 35 minutes |
| | Yields | 2 servings |
Nutritional information / 1 serving
Calories
370 Kcal
Carbohydrates
6 g
Fiber
3 g
Proteins
62 g
Fat
7 g
I am a fit food wizard nutritionist and I conjure up these healthy and tasty fitness recipes.
My goal is to show you that eating healthy can be easy-breezy.
Lucia Wagner
Comments