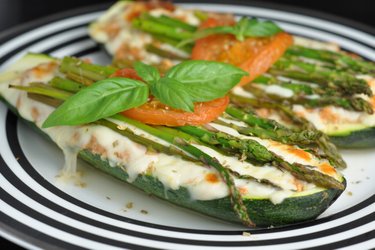 Easy Baked Stuffed Zucchini with Tuna
Share this recipe with a friend:
Tasty, low calorie meal, full of protein - this easy baked stuffed zucchini with tuna paprika mixture and asparagus is really great for everyone. Whether you are an athlete, a fan of healthy nutrition, on gluten-free diet, or just trying to lose some weight. You will definitely enjoy this fit recipe. It only contains a low amount of carbohydrates, fat and calories. Stuffed zucchini with tuna is not only a nutritionally rich, but also diet and tasty lunch or dinner.
Make use of the zucchini season and its juicy and nutritious fruits full of vitamins. Zucchini is quite easy to digest and moreover helps to strengthen the immunity. The tuna filling brings a distinct flavor and gives oomph to the delicate baked zucchini. I also recommend using smoked tofu - I love it and I like to use it in recipes because of its fine nutty flavor. The asparagus on the top will be delicately crunchy after baking, pushing the experience of the whole meal to an even higher level.
Try out this easy recipe for baked stuffed zucchini with tuna and asparagus. It will be prepared in few minutes and you can change the filling according to your taste, every time you make it. And don't forget about tasty and healthy asparagus as well as irresistibly melting cheese on the top. This healthy meal is just amazing and I'm sure you will get to love it.
Ingredients
1 smaller zucchini
150 g (5.3 oz) tuna in its own juice (I recommend this one)
1/8 onion
1/2 tsp ground sweet paprika
1/4 tsp salt (I recommend this one)
oregano
1 garlic clove
2 tsp mustard
3 Tbsp Greek yogurt
50 g (1.8 oz) asparagus
30 g (1 oz) shredded mozzarella
50 g (2 oz) smoked tofu (optional)
Instructions
Rinse zucchini, chop off the stem and cut in half lengthwise.
Using a spoon, scoop out the inside of zucchini. It can be used for other recipes.
Place the zucchini boats in a baking dish or a baking tray.
In a bowl, mix together tuna drained of juice with pepper, salt, yogurt, mustard, finely chopped onion and crushed garlic clove. You can also add in smoked tofu.
Combine the ingredients together thoroughly and divide the mixture into prepared zucchini boats.
Place rinsed asparagus on the top and sprinkle with cheese.
Bake for about 20 minutes at 205 degrees Celsius (400 degrees Fahrenheit).
The resulting zucchini should be baked until soft and it shouldn't fall apart.
Share this recipe with a friend:
| | | |
| --- | --- | --- |
| | Preparation time | 30 minutes |
| | Yields | 1 serving |
Nutritional information / 1 serving
Calories
220 Kcal
Carbohydrates
7 g
Fiber
2 g
Proteins
43 g
Fat
2 g
I am a fit food wizard nutritionist and I conjure up these healthy and tasty fitness recipes.
My goal is to show you that eating healthy can be easy-breezy.
Lucia Wagner
Comments