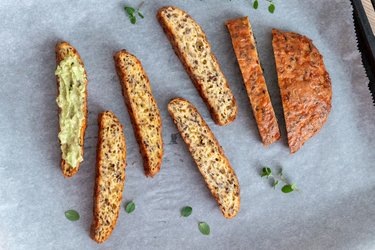 Evening bread (low-carb, gluten-free)
Share this recipe with a friend:
A simple and quick recipe for evening bread without flour and gluten, low in carbohydrates and high in protein. Don't expect any complicated procedures, the recipe for this healthy bread is quite simple. In addition, you will only need 5 basic ingredients to prepare it. Be sure to try it.
The recipe for low-carb bread is super easy, ready in a few minutes. All you have to do is mix all the ingredients together, let them set for a while, and then bake. The recipe for protein bread will be appreciated especially by those who prefer to eat only dishes with high protein content and the lowest possible carbohydrate content in the evening. In this case, the amount of carbohydrates in the bread is almost negligible - in 1 slice you will find only 1 g of carbs. In addition, this homemade gluten-free bread is also rich in fiber, which will not only satiate you but will also help your digestion.
This evening flour-free bread is absolutely delicious and I love to serve it slathered with avocado together with vegetables. Yummy! It's a fit bread that everyone really enjoys, you don't even have to have any dietary restrictions.
What is psyllium? Psyllium is a natural soluble fiber obtained from the seed husks of the Psyllium plant. It binds a lot of liquids and will serve as a binder instead of flour in the recipe. Psyllium can be found in every health food store, but also in large supermarkets.
From this recipe, you will get one smaller loaf - 8 filling slices.
Ingredients
4 tbsp of psyllium
100g of finely grated cheese (e.g. mozzarella)
4 large eggs
pinch of ground cumin
1/2 tsp of salt
flax seeds (optional) (I recommend these)
rosemary (optional)
Instructions
Mix all the ingredients together thoroughly in a bowl with a whisk.
Let the dough stand for 15 minutes to set.
You will get a thick and slimy dough, which you can transfer with the help of a spatula to a baking sheet lined with baking paper and shape a loaf out of it.
Bake the bread for 40-45 minutes at 170 degrees until golden brown.
Share this recipe with a friend:
| | | |
| --- | --- | --- |
| | Preparation time | 60 minutes |
| | Yields | 1 loaf |
Nutritional information /
Calories
765 Kcal
Carbohydrates
4 g
Fiber
34 g
Proteins
56 g
Fat
51 g
I am a fit food wizard nutritionist and I conjure up these healthy and tasty fitness recipes.
My goal is to show you that eating healthy can be easy-breezy.
Lucia Wagner
Comments
✉️ Send me your favorite recipe.
Do you like to cook healthy and want to publish your favorite recipe on Fit Food Wizard?
Email
it to me and I will be happy to try it and publish it.