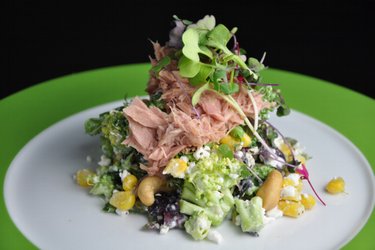 Fit Broccoli Salad with Cottage Cheese, Tuna and Corn
Share this recipe with a friend:
Delicious, fit broccoli salad with cottage cheese, tuna and corn that you can enjoy at any time during the day. You can prepare this salad with or without tuna. Tuna adds to its protein, omega-3 fatty acids content and also fills you up even more. It will be ready in just a few minutes, and thus is perfect during busy days when you don't have time to prepare complicated meals. It is nutritionally valuable and you can pack it with you wherever you go.
Since you don't need to cook, bake or blend anything for this fit salad, it is extremely easy and convenient even for days when you are too busy. Just cut and mix raw broccoli with other ingredients. Season and zest according to your taste and, as I mentioned, I recommend adding tuna as well. And do not worry, you will fall for raw broccoli for sure - it's deliciously crunchy. Personally, I like it much more than stewed or cooked broccoli.
This healthy broccoli salad that's made using just one bowl and a knife will supply your body with lots of vitamins, minerals and especially protein. Treat yourself with this salad for breakfast, dinner or even as a lunch garnish. It consists of ingredients, that every fan of healthy lifestyle usually has at home - cottage cheese is a perfect protein bomb, tuna is, along with protein, also a great source of omega-3 fatty acids, and the rest is just vegetables and crunchy cashew nuts, offering a bit of healthy fats.
Try this fit salad with broccoli out for sure, and don't forget to come back for more healthy salad ideas.
Ingredients
200 g (7 oz) (about 1/2) raw broccoli
250 g (8.8 oz) cottage cheese
80 g (2.8 oz) corn
handful of lettuce (garden, salad mix..)
30 g (1 oz) cashew nuts (I recommend these)
1-2 garlic cloves
fresh basil (to taste)
pinch of sea salt
pinch of ground black pepper
pinch of ginger powder
150 g (5.3 oz) tuna in its own juice (I recommend this one)
Instructions
Chop washed, raw broccoli finely.
In a bowl, mix cottage cheese with spices, corn and crushed garlic.
Add in chopped broccoli and salt to taste.
I recommend serving the salad together with tuna drained of juice, for extra protein content.
Share this recipe with a friend:
| | | |
| --- | --- | --- |
| | Preparation time | 10 minutes |
| | Yields | 2 servings |
Nutritional information / 1 serving
Calories
360 Kcal
Carbohydrates
25 g
Fiber
4 g
Proteins
48 g
Fat
9 g
I am a fit food wizard nutritionist and I conjure up these healthy and tasty fitness recipes.
My goal is to show you that eating healthy can be easy-breezy.
Lucia Wagner
Comments
✉️ Send me your favorite recipe.
Do you like to cook healthy and want to publish your favorite recipe on Fit Food Wizard?
Email
it to me and I will be happy to try it and publish it.