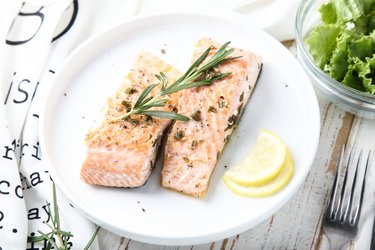 Fit salmon with lemon and rosemary
Share this recipe with a friend:
Simple and quick recipe with salmon? Try this one for fit salmon with lemon and rosemary as a tasty and nutritious lunch or dinner. The dish is very low in carbohydrates and rich in protein and healthy fats. And since salmon does not require long cooking time, you can prepare this fit recipe in 15 minutes. It is also very likely that you have all the ingredients to prepare it at home already. Come and try the recipe, I believe that its simplicity will make it one of your favorite dishes with salmon.
Healthy lemon-rosemary salmon is also one of those dishes that we reach for if we don't want to think long about what to cook at home. It is very simple and prepared from accessible ingredients, but it will still please the taste buds with its wonderful flavor. The combination of lemon and rosemary is flawless. However, this dish will not only please with its great flavor but also with its nutritional values. Surely, we all know very well that salmon is rich in omega 3 and 6 fatty acids. In addition, it also has a large number of trace elements.
If you can, do not choose farm-raised salmon. This is because it contains lower amounts of nutrients and, on the other hand, more fats and contaminants than wild ocean-caught salmon.
The cooked salmon can be served together with a salad, or with quinoa, baked potatoes, or any other favorite side dish of yours. Bon appetite!
Ingredients
300g of salmon fillets
1 tbsp of olive oil (I recommend this one)
1/3 cup of vegetable broth
juice from 1 lemon
2 tbsp of finely chopped rosemary
1/4 tsp of ground black pepper
1/2 tsp of sea salt
Instructions
Wash the salmon fillets, drizzle with olive oil on all sides, salt and season them.
Transfer the prepared fillets to a non-stick pan.
Cover the pan and let the salmon simmer for 3-4 minutes.
Turn the salmon over and let it simmer covered for another 3 minutes.
Transfer the cooked salmon to a container with a lid.
Add vegetable broth, lemon juice, and finely chopped rosemary to the same pan you cooked salmon in and let the sauce simmer for at least a minute.
Add the prepared salmon fillets to the sauce, cover the pan and let the fillets soak in the sauce for 2-3 minutes.
Finished salmon can be served with brown rice, salad, couscous, bulgur, or quinoa, topped with the remaining sauce.
Share this recipe with a friend:
| | | |
| --- | --- | --- |
| | Preparation time | 15 minutes |
| | Yields | 2 servings |
Nutritional information / 1 serving
Calories
360 Kcal
Carbohydrates
2 g
Fiber
0 g
Proteins
42 g
Fat
20 g
I am a fit food wizard nutritionist and I conjure up these healthy and tasty fitness recipes.
My goal is to show you that eating healthy can be easy-breezy.
Lucia Wagner
Comments