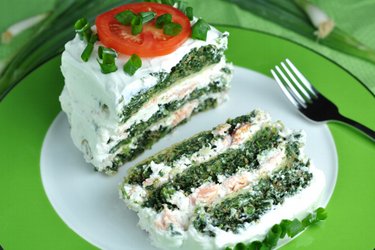 Fit Savory Spinach Cake with Salmon
Share this recipe with a friend:
Healthy recipe with a low carbohydrate and high protein content, that suits well for any ordinary day or holiday - fit savory spinach cake with salmon and quark-yogurt filling. This recipe for healthy savory cake is ideal if you love salmon. The spinach base, in combination with the filling, creates an eye-catching combination of colors that tastes great too.
In addition to salmon, you can also add various ingredients such as olives, red peppers, corn, cheese, or even grated carrots into the filling. Put some optional ingredients aside and use them to decorate the entire cake. You can also use spring onions or tomatoes.
This unusual recipe for fit spinach cake with salmon is ideal as a light dinner, but you can also shock your friends with such a snack, serving it cut into small cubes skewered with a toothpick. I guarantee that such a healthy finger food is nothing usual to see, and you will surely earn some points serving it. Don't forget to mention that this healthy savory spinach cake with salmon is low calorie, low fat and low carb - although, they will probably not even believe it :)
Ingredients
300 g (10.5 oz) frozen spinach
3 eggs
4 Tbsp spelt or oat flour (I recommend this one)
150 g (5.3 oz) broiled or smoked salmon
200 g (7 oz) fine quark (or cream cheese)
1/2 onion
6 Tbsp Greek yogurt
1 tsp sodium bicarbonate
garlic powder
ground black pepper
salt (to taste) (I recommend this one)
olives, carrots, corn, red pepper, grated cheese.. (optional)
Instructions
Defrost the spinach, drain the juice and mix with spelt or oat flour, a bit of sea salt, teaspoon of sodium bicarbonate and yolks.
In a second bowl, whisk the egg whites with a pinch of salt until stiff peaks form. Then gently stir them into the spinach mixture.
Spread the finished mixture onto a baking pan lined with parchment paper and bake for 15-20 minutes at 180 degrees Celsius (355 degrees Fahrenheit). The larger the pan will be, the lower cake you get, so choose the size of a pan according to your preferences.
Meanwhile, prepare the filling.
Blend quark, yogurt and onion together into a smooth cream in a food processor.
Add in chopped, broiled salmon or smoked salmon slices.
You can also add finely chopped olives, red peppers, grated carrots, cheese or corn.
Finally, season and salt the filling to taste.
Let the spinach base cool down and then cut it into slices. Tier them with filling alternately.
Finally, spread the cake with a thin layer of filling from all sides and place cake into refrigerator for at least 6 hours.
Before serving, you can decorate the spinach cake with chopped spring onions and tomato slices.
Share this recipe with a friend:
| | | |
| --- | --- | --- |
| | Preparation time | 40 minutes |
| | Yields | 8 pieces |
Nutritional information /
Calories
117 Kcal
Carbohydrates
6 g
Fiber
1 g
Proteins
14 g
Fat
4 g
I am a fit food wizard nutritionist and I conjure up these healthy and tasty fitness recipes.
My goal is to show you that eating healthy can be easy-breezy.
Lucia Wagner
Comments