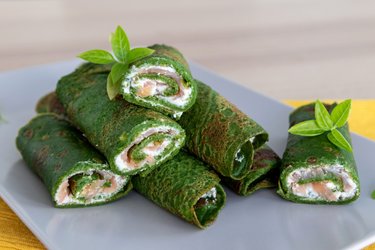 Fit spinach crepes with quark and smoked salmon
Share this recipe with a friend:
Yummy, yummy, yummy! I fell in love with these amazing and fit spinach pancakes with quark and smoked salmon from the moment I first tasted them. This flavor combination is incredibly tasty, some might even say addictive. You have to try them!
I was afraid that it would be complicated to make these pancakes, but it is actually really easy. The spinach pancakes themselves are ready in minutes and then you just need to fill them. The whole recipe took no longer than 40 minutes. And those 40 minutes were definitely worth it. I can't wait to make these again! The recipe was a win at home as well. And for being pancakes, this recipe is great in terms of nutrition - it is rich in protein, fiber, and various trace elements, while the whole serving contains less than 600 kcal.
If you or someone at your home happen to have an egg allergy, you can just skip the eggs. Spinach pancakes are great even without eggs. But be careful not to tear them when turning. And if you feel like treating yourself to a slightly less dietary version of this yummy recipe, you can replace half the quark/cottage cheese with cream cheese - the filling will be creamier and even more delicious.
You can also cut the filled pancakes into narrow wheels, pin them with skewers and serve them as a healthy and delicious snack for your guests. They will be blown away not only by the taste but also by the looks of them.
The ingredients make for 6 large pancakes, which are 2 satisfying portions.
Ingredients
300 g of thawed spinach puree
130 g of wholemeal spelled or buckwheat flour (I recommend this one)
200-250 ml of milk
1 egg (optional)
1/2 tsp of salt
1 tbsp of oil (for frying)
for the filling:
250g of soft quark (or cream cheese)
pinch of salt (I recommend this one)
150g of slices of smoked salmon
Instructions
In a bowl, mix the thawed spinach with flour of your choice, salt, 200 ml of the milk, and the egg until smooth. If the dough is too thick, add another 50 ml of milk.
Pour the dough in portions into a heated pan with oil and fry the pancakes for 2 minutes on each side. Mix the remaining dough in the bowl from time to time so that the flour does not set on the bottom.
Once the pancakes are done, spread the quark cheese mixed with salt on one side of each pancake. Then add pieces of smoked salmon.
Roll the pancakes and you are ready to serve. Pancakes taste best when they are still warm.
Share this recipe with a friend:
| | | |
| --- | --- | --- |
| | Preparation time | 40 minutes |
| | Yields | 2 servings |
Nutritional information /
Calories
561 Kcal
Carbohydrates
53 g
Fiber
13 g
Proteins
49 g
Fat
14 g
I am a fit food wizard nutritionist and I conjure up these healthy and tasty fitness recipes.
My goal is to show you that eating healthy can be easy-breezy.
Lucia Wagner
Comments