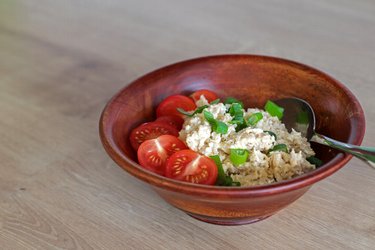 Fitness Savory Oatmeal
Share this recipe with a friend:
In case you desire something savory and very easy to prepare in the morning, don't hesitate and try to prepare this unique fitness savory oatmeal with eggs and cheese. If you are used to its sweet variations, be sure not to reject this idea - I believe you will be pleasantly surprised about the result. Fitness savory oatmeal represents a nutritious and well-balanced breakfast that is ready in just a few minutes.
If you love to have oatmeal for breakfast, you have surely come to the point where you thought about how to prepare your oatmeal in some different way. So I have another idea for you! Just adjust it by adding eggs, cheese and season it to your liking. You can also add in vegetables, olives, dried tomatoes or spring onions. Such nutritionally-balanced breakfast will kick-start you for a new day and will fill you up for a long time. Fiber that is contained in oatmeal will promote proper digestion and protein in eggs and cheese, together with exercise will promote muscle growth.
This savory fitness oatmeal can be served as is. It is quite filling and tasteful, but if you want to enrich your breakfast a little bit more, or you want to prepare it as a quick and easy lunch or dinner, you can also serve it with lettuce or even add in some tuna. And if you prefer less-mushy oatmeal, you can prepare the oatmeal and the omelette separately and combine them together at the end.
Try this quick fitness recipe tomorrow morning, I believe you will get to love this savory oatmeal.
Ingredients
1/2 cup rolled oats (I recommend these)
1 cup water
2 eggs
3 Tbsp grated mozzarella
pinch of sea salt
pinch of ground black pepper
Instructions
In a smaller pot, bring water to a boil.
Add oats to the boiling water and cook until thickened (about 3 minutes).
Then mix in the eggs, salt, pepper and grated mozzarella.
Cook the oatmeal for another 2-3 minutes, stirring constantly.
It's the best to serve this oatmeal while still warm.
Share this recipe with a friend:
| | | |
| --- | --- | --- |
| | Preparation time | 10 minutes |
| | Yields | 1 serving |
Nutritional information / 1 serving
Calories
378 Kcal
Carbohydrates
25 g
Fiber
4 g
Proteins
26 g
Fat
18 g
I am a fit food wizard nutritionist and I conjure up these healthy and tasty fitness recipes.
My goal is to show you that eating healthy can be easy-breezy.
Lucia Wagner
Comments
✉️ Send me your favorite recipe.
Do you like to cook healthy and want to publish your favorite recipe on Fit Food Wizard?
Email
it to me and I will be happy to try it and publish it.