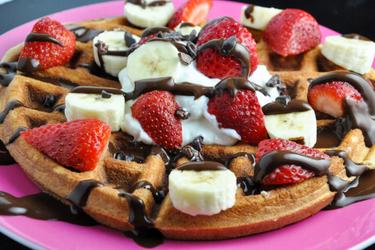 Gluten-Free Protein Waffles/Pancakes
Share this recipe with a friend:
I love waffles, pancakes and crumpets and I can't imagine a weekend without them. But I don't feel well from their classic flour versions (and it's also easy to gain weight out of them, isn't it?). And after all, it would be strange if I, as fit food blogger, wouldn't come up with healthy and fit recipe for waffles or pancakes. This is the best recipe for healthy waffles and pancakes that I have tried so far - they are delicate, fluffy and have perfect nutritional values. And they are even completely flour-free, gluten-free and sugar-free!
When cooking and preparing pancakes and waffles, protein can be used very conveniently instead of using flour. Just use a little less of it, so the resulting waffles contain a lower amount of calories but also fewer carbohydrates and more protein. One portion of these fitness waffles contains up to 32g of protein and only 29g of carbohydrates, which is in my opinion great for waffles and pancakes.
If you don't have a waffle maker, you can prepare protein pancakes instead. If you don't want to use protein powder, you can replace it with flour of your choice, pudding mix or milk powder, but then you will lose all the benefits of this recipe, which are the above mentioned higher protein content, lower carbohydrate and low calorie content.
One healthy waffle like this will fill you up, and you will probably not need more of them. And remember, if we use bananas in the dough, it's best to have them as ripe as possible.
Instructions
In a bowl, mash banana using a fork and mix it together with the other ingredients.
Pour the dough into a preheated waffle maker and bake waffle for approximately 5 minutes until golden. If you don't have a non-stick waffle maker, spray the iron with some oil.
Using the same dough, you can also prepare pancakes.
You can serve waffles with yogurt, homemade banana ice cream, protein mousse, fruit, dark chocolate, maple syrup, or sprinkle with cocoa nibs.
Share this recipe with a friend:
| | | |
| --- | --- | --- |
| | Preparation time | 10 minutes |
| | Yields | 1 serving |
Nutritional information /
Calories
332 Kcal
Carbohydrates
24 g
Fiber
5 g
Proteins
36 g
Fat
9 g
I am a fit food wizard nutritionist and I conjure up these healthy and tasty fitness recipes.
My goal is to show you that eating healthy can be easy-breezy.
Lucia Wagner
Comments
✉️ Send me your favorite recipe.
Do you like to cook healthy and want to publish your favorite recipe on Fit Food Wizard?
Email
it to me and I will be happy to try it and publish it.