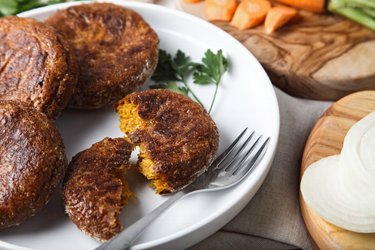 Healthy Baked Carrot Patties
Share this recipe with a friend:
It never was faster, healthier and easier to prepare the Sunday lunch. Swap the properly knocked, wrapped in breadcrumbs and on fat pan-fried schnitzel placidly for these healthy baked carrot patties and I guarantee that none of the invited guests will complain and your belly will also thank you with joy.
You will only need a few ordinary ingredients for this delicious meal, you probably have them in your kitchen right now. Carrots and onions will add vitamins, magnesium, iron and calcium to the patties, which will be positively appreciated by your body and the entire organism. After adding the garlic, antibacterial and antiviral effects will also be enhanced, so if you like garlic, you can surely enrich the patties with it. The egg will toughen whole consistency and moreover, it supplements the necessary proteins. These healthy patties are low calorie and can be prepared gluten-freeusing chickpea flour or oat flour.
You can bake these easy carrot patties in the oven instead of pan-frying. Enjoy them with vegetable salad or potatoes, according to your taste. You can also serve them by itself with garlic, herbal or another favorite dressing. Baked vegetable patties are a great alternative of a tasty lunch or a healthy and nutrient rich dinner.
Instructions
Grate carrots, season with salt, and cook in a bit of water (approximately 5 minutes).
Strain cooked carrots.
Peel and cut onion finely, mix with carrots, crushed garlic, spices, eggs, and chosen flour.
Stir the dough thoroughly and let sit for 10 minutes.
Next, shape the dough into patties, put them onto a baking sheet lined with parchment paper, and bake at 190 degrees Celsius (375 °F) for 20 to 30 minutes.
Share this recipe with a friend:
| | | |
| --- | --- | --- |
| | Preparation time | 45 minutes |
| | Yields | 8 servings |
Nutritional information / 1 serving
Calories
52 Kcal
Carbohydrates
6 g
Fiber
2 g
Proteins
3 g
Fat
1 g
I am a fit food wizard nutritionist and I conjure up these healthy and tasty fitness recipes.
My goal is to show you that eating healthy can be easy-breezy.
Lucia Wagner
Comments
✉️ Send me your favorite recipe.
Do you like to cook healthy and want to publish your favorite recipe on Fit Food Wizard?
Email
it to me and I will be happy to try it and publish it.