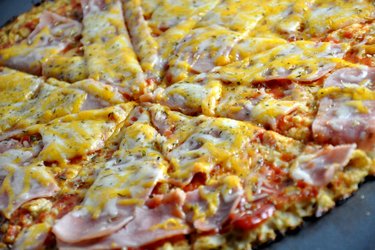 Healthy Cauliflower Pizza
Share this recipe with a friend:
"One Hawaiian and one salami with chilli peppers, please" you make a loud chomp and then you wake up from the nightmare. You dreamed about ordering two really big pizzas full of gluten and you would like to forget this dream as soon as possible. I can assure you, the recipe for a healthy gluten-free cauliflower pizza will help you overcome this situation. And you can really eat a lot of it, actually absolutely guilt-free.
This healthy pizza crust made of cauliflower is a great alternative to the classic flour dough, has much fewer carbohydrates and calories and an increased fiber and protein content. If you like pizza, you will definitely enjoy it.
**Cauliflower ** is rich in vitamins, minerals, antioxidants and lots of fiber (good for digestion). It is considered to be the best colorectal cancer prevention. It has positive effects on joint and tendon function, reduces hair loss, strengthens nails, heals skin inflammations, helps to regenerate the lining of the intestine, stimulates cell growth and regeneration, stimulates hematopoiesis, promotes a healthy immune system, helps to prevent infections, and lowers blood pressure. A real miracle growing in the garden.
Healthy cauliflower pizza will please your belly and if you spread it with homemade tomato purée and sprinkle with your favorite garnish, you will please your taste buds too. Healthy, easy and tasty pizza is no longer just an unattainable dream.
If this alternative pizza dough has taken your interest, you should also check out the recipes for flaxseed pizza crust Flaxseed Pizza Crust (Gluten-Free) , zucchini pizza crust Healthy Zucchini Pizza Crust and tuna pizza crust Fitness Tuna Pizza Crust .
Ingredients
1 cauliflower head, cut into small florets
1 egg
50g (1.7oz) grated cheese
½ tsp. sea salt (I recommend this one)
½ tsp. dried oregano
¼ tsp. ground black pepper
garnish (to taste)
Instructions
In a blender, blend cauliflower into small rice-like pieces.
Put blended cauliflower into a pan and cook approximately 8 minutes until tender.
When cauliflower is tender and is begins turning brown, place onto a cloth to get all of the moisture out- the drier the cauliflower, the better.
When properly dried, put cauliflower into a bowl with the remaining ingredients and mix thoroughly.
Put dough onto a baking sheet (lined with parchment paper) and spread the dough into a pizza shape.
Bake at 220 degrees Celsius (425 °F) for about 15 minutes – until golden.
Next, top the pizza with desired ingredients (tomato purée, ham, spinach, corn, mushrooms...) and bake for another 7 to 10 minutes.
Share this recipe with a friend:
| | | |
| --- | --- | --- |
| | Preparation time | 40 minutes |
| | Yields | 2 servings |
Nutritional information /
Calories
150 Kcal
Carbohydrates
4 g
Fiber
2 g
Proteins
11 g
Fat
9 g
I am a fit food wizard nutritionist and I conjure up these healthy and tasty fitness recipes.
My goal is to show you that eating healthy can be easy-breezy.
Lucia Wagner
Comments