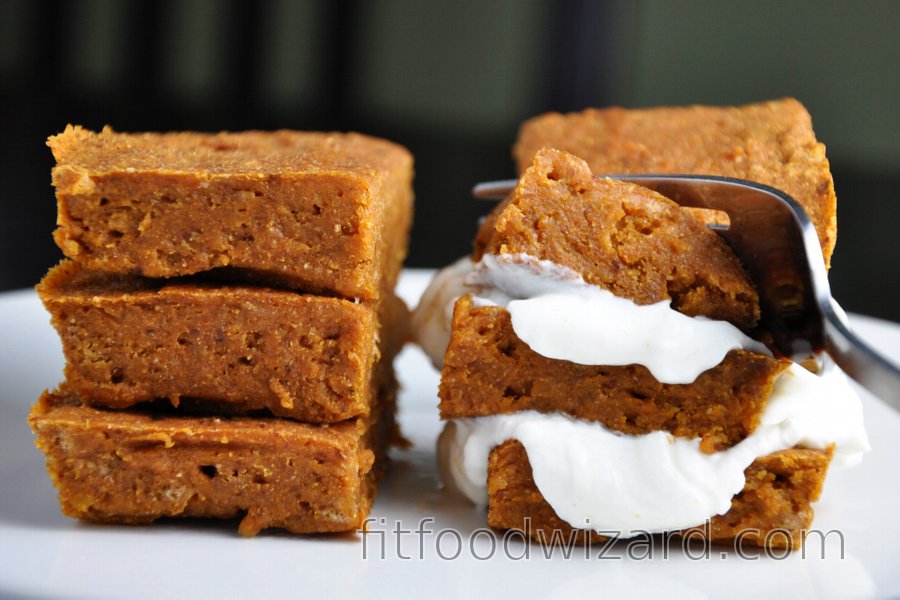 The pumpkin may not just be a sculptured spooky halloween decoration for your home. Try to make the autumn days special with this tasty recipe from pumpkin. Prepare excellent, delicate and healthy pumpkin squares that will revive your cravings in the autumn.
If you desire a fresh combination in the form of a pie that will warm you up and stroke your belly with the true taste of pumpkins in accordance with nutritious honey, spicy cinnamon or fragrant gingerbread spice - pumpkin squares will become your choice number one.
A pumpkin is unique source of potassium and beta-carotene, that converts to vitamin A and takes care of the nutrition for your bones, teeth, and eye mesh. Pumpkin is also rich in minerals, calcium and magnesium, beneficial for our health, as well as vitamins E, C and certain types of vitamin B. You can prepare oat flour for the recipe simply by blending or grinding the oats finely, the flaxseed flour can be prepared by grinding flaxseeds.
Enjoy this quick, tasty and healthy recipe for pumpkin pie, you can consume it warm, but it is great even after taking out of the refrigerator as a generous morning snack or as an afternoon snack for a healthy snacking with delicate pumpkin-ginger flavor and aroma. This healthy pumpkin pie is excellent during autumn and will also please your body with a good load of fiber.
Instructions
First, mix flour with flaxseed meal, spices, and baking powder.
Next, fold in remaining ingredients and mix thoroughly.
Pour batter into a small baking pan (e.g. bread mold), lined with parchment paper, or onto a silicone bread mold.
Bake at 180 degrees Celsius (350 °F) for 15 to 18 minutes until brown.
Let the cake cool, cut into squares, and serve either warm or cold.
| | | |
| --- | --- | --- |
| | Preparation time | 25 minutes |
| | Yields | 6 slices |
Nutritional information/ 1 slice
Calories
220 Kcal
Carbohydrates
25 g
Fiber
5 g
Proteins
5 g
Fat
11 g