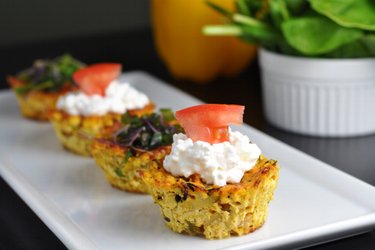 Healthy Tofu Muffins (Savory, Gluten-Free, Egg-Free)
Share this recipe with a friend:
These easy and savory, healthy tofu muffins are a great alternative to egg muffins. The dough holds together even without eggs or flour and their taste is also surprisingly delicious. You can add in extra ingredients you like and thus easily create plenty of variations for this recipe. These healthy savory muffins also work as a fun snack for guests. Try out these fit tofu muffins full of protein!
Tofu muffins belong to my favorite healthy breakfast recipes, and since they have perfect nutritional values, I have no remorse even if I eat them all for dinner. At the same time, they are easily portable and therefore serve good as a snack at work or at school. These tofu muffins aren't only low fat and rich in protein, but also low calorie and low carb, which means they have low carbohydrate content. The recipe will not only please all healthy lifestyle and fitness enthusiasts, but it's also ideal for weight loss. And definitely don't worry about these attributes because this is one of those recipes that is incredibly tasty and diet at the same time. To modify them, I recommend adding either dried tomatoes, tuna, olives or spring onions to the dough, according to your taste.
If you are looking for an easy recipe for savory muffins, that are egg-free and gluten-free, you just need to try these healthy tofu muffins out. I'm sure that your entire family will get to love them and they will disappear from the table at the speed of light. You can serve them separately or together with cottage cheese, bread or your favorite salad.
Ingredients
300 g (10.5 oz) bio tofu
1/2 medium-sized zucchini
1/2 onion
200 g (7 oz) high quality ham
70 g (2.5 oz) grated cheese (mozzarella or other)
pinch of salt (I recommend this one)
pinch of ground sweet paprika
pinch of oregano
Optional ingredients:
dried tomatoes
olives
tuna in its own juice (I recommend this one)
spring onion
Instructions
Squeeze tofu with your hands or kitchen towels to drain it as much as possible and then place it in a bowl.
Crumble tofu using a fork.
Grate half of zucchini on a grater coarsely, and then drain it the same way as tofu, using your hands or kitchen towels.
Add grated zucchini to tofu along with finely chopped ham, onion and grated cheese.
You can also add other ingredients according to your taste (such as chopped dried tomatoes or olives).
Finally, season and salt the mixture.
Divide the mixture into 12 silicone muffin cups and press the dough as much as you can, using a spoon. If you don't have silicone muffin cups, you can simply use a greased muffin pan.
Bake muffins for 35 minutes at 185 degrees Celsius (365 degrees Fahrenheit).
After baking, let them cool for a few minutes and then remove them from the cups carefully.
Share this recipe with a friend:
| | | |
| --- | --- | --- |
| | Preparation time | 45 minutes |
| | Yields | 12 muffins |
Nutritional information /
Calories
70 Kcal
Carbohydrates
1 g
Fiber
0 g
Proteins
8 g
Fat
4 g
I am a fit food wizard nutritionist and I conjure up these healthy and tasty fitness recipes.
My goal is to show you that eating healthy can be easy-breezy.
Lucia Wagner
Comments