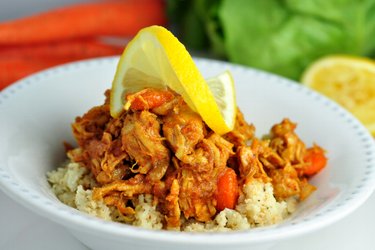 Low Carb Chicken Breasts with Carrot and Cauliflower "Rice"
Share this recipe with a friend:
Prepare this tasty fitness lunch or dinner full of protein, with a low carbohydrate content - chicken breasts with carrot and cauliflower "rice". Rice was in this recipe replaced by finely chopped cauliflower. This significantly reduced the amount of carbohydrates in the meal and it also is a great way to include more vegetables in your daily menu. This low carb meal tastes perfect, if you haven't tried cauliflower "rice" yet, certainly give it a chance - it is excellent in this combination.
The preparation of cauliflower rice is quite easy and the result is really worth it. The whole meal contains a low amount of fat and calories so you can enjoy it even during diet and weight loss. Cauliflower is rich in vitamins, minerals, antioxidants and also a lot of fiber that promotes digestion. It is considered to be the best prevention of colon cancer. Several other reasons to try to replace rice with cauliflower. The recipe for low carb chicken breasts with carrot and cauliflower "rice" is extremely easy and I'm quite sure any beginner will be able to prepare it.
This low carb chicken recipe is ideal if you need to prepare a quick lunch or even a light dinner for yourself or the entire family. Well, I believe that during diets, there is never enough of such handy recipes. Try this combination out, I truly believe you will get to love it!
Ingredients
700 g (25 oz) chicken breasts
1 onion
1 Tbsp coconut oil (I recommend this one)
200 g (7 oz) carrot
2 Tbsp lemon juice
1 Tbsp garlic powder
1 tsp ground sweet paprika
1 tsp salt (I recommend this one)
pinch of turmeric
1 large cauliflower
2 Tbsp water
1 tsp sea salt
1/2 tsp ground black pepper
basil
Instructions
In a large pot, heat up the oil and sauté finely chopped onion until translucent.
Then, add in diced chicken breasts.
Mix thoroughly, add a little water, cover and stew for 20 minutes, stirring occasionally.
Finally, add in spices, salt, lemon juice and coarsely grated carrot.
Cook everything together for another 5 minutes and then turn off the heat.
In the meantime, cut the cauliflower into florets and blend it into "rice". If desired, we can cut the cauliflower into small pieces using a knife, but a finer result will be achieved using a food processor.
Place the chopped cauliflower into a deeper pan, add 2 tablespoons of water, season with salt, spices and cook it for about 10 minutes, stirring occasionally until it begins to catch the golden color.
Finally, remove the cauliflower "rice" from the heat and serve it together with meat.
Share this recipe with a friend:
| | | |
| --- | --- | --- |
| | Preparation time | 40 minutes |
| | Yields | 4 servings |
Nutritional information / 1 serving
Calories
310 Kcal
Carbohydrates
12 g
Fiber
7 g
Proteins
45 g
Fat
6 g
I am a fit food wizard nutritionist and I conjure up these healthy and tasty fitness recipes.
My goal is to show you that eating healthy can be easy-breezy.
Lucia Wagner
Comments