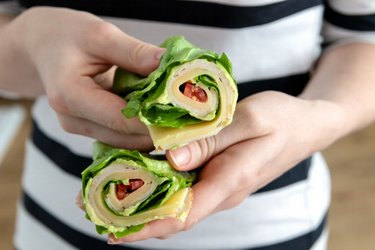 Low-carb lettuce wrap
Share this recipe with a friend:
This simple low-carb lettuce wrap filled with avocado, ham, cheese, and tomato is a perfect refreshment to any diet. Be sure to try it - it is perfect as a light dinner or a filling snack. It will provide you with fiber, protein, healthy fats, and on the other hand, only a minimum of carbs. You only need 5 main ingredients and less than 5 minutes. And it's so delicious, see for yourself! ;)
We have all fallen in love with this low-carb lettuce wrap without bread at home. Sometimes we crave a lighter wrap that contains everything we love. So we enjoy our favorite ingredients wrapped in lettuce leaves. After this wrap, you will feel healthy and fit and you will even enjoy the flavors. Indeed, you will be surprised at how good it tastes, even though it does not contain any bread.
You can always change up this recipe to your liking - you can add scrambled eggs, thinly sliced ​​tofu, prosciutto, grilled chicken, and even home-made egg or tuna salad.
When preparing this salad wrap make sure that you roll it as tightly as possible and at the same time, when rolling, you can bend the outer sides of the salad leaves inwards so that the filling does not fall out. You can easily pack a low-carb lettuce wrap in a box and take it with you for a snack. If you try it, be sure to let me know below how you liked it :)
Ingredients
2 large lettuce leaves
50g of high-quality ham
30g of sliced cheese (e.g. Swiss cheese)
1/4 of avocado
1/2 of tomato
pinch of ground black pepper
Instructions
Rinse the lettuce leaves under running water and let them dry.
Clean the avocado and mash it with a fork.
Mix the avocado mash with a pinch of ground black pepper and spread it on one of the lettuce leaves.
Place the lettuce leaf with avocado on a second washed leaf so that they stick together.
Place slices of ham and cheese on the lettuce leaves and place a thinly sliced tomato on top.
Carefully roll the salad leaves with the filling as tightly as possible. You can cut the wrap in half, or secure it with a toothpick so that it does not open.
Share this recipe with a friend:
| | | |
| --- | --- | --- |
| | Preparation time | 5 minutes |
| | Yields | 1 serving |
Nutritional information /
Calories
261 Kcal
Carbohydrates
7 g
Fiber
5 g
Proteins
20 g
Fat
17 g
I am a fit food wizard nutritionist and I conjure up these healthy and tasty fitness recipes.
My goal is to show you that eating healthy can be easy-breezy.
Lucia Wagner
Comments