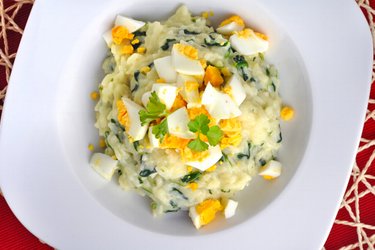 Rice with spinach, eggs, and goat cheese
Share this recipe with a friend:
Tasty meatless meal, which combines the flavors of creamy rice (thanks to goat cheese), spinach, and eggs. It is nutritionally balanced and rich in protein. Try this healthy recipe for lunch or dinner :)
I like quick, delicious, and healthy meals and this recipe is one of them. It is ready in half an hour, so you will not stand by the stove in the kitchen for too long, and at the same time, it is magnificently tasty and especially suitable for every health food enthusiast. It is low-calorie, but thanks to rice and goat cheese it is super filling. Spinach gives this recipe an excellent flavor and at the same time enriches the food with vitamin K, A, folic acid, iron, manganese, and magnesium. If you use brown rice, you will also treat yourself to more fiber and protein. At the same time, brown rice has a lower glycemic index than white rice, but you can use any rice according to your preferences.
This rice dish is great as a nutritious fit lunch, especially if you don't have the time to come up with complicated meals. However, you can also enjoy this meal as dinner and your whole family will love it. Garnish this spinach rice with hard-boiled egg cut into pieces and herbs. It is too hard to resist such a healthy and tasty meal.
Ingredients
250g of rice (brown or wild)
200g of baby spinach
4 eggs
150g of soft goat cheese (or different type of cheese)
1 onion
3 cloves of garlic
1 tbsp of olive oil (I recommend this one)
1 tsp of sea salt (I recommend this one)
1/2 tsp of ground black pepper
Instructions
In a pot, lightly fry a finely chopped onion in heated oil.
Add rinsed rice, shortly fry it, add pepper, salt and pour twice the amount of water over the rice.
Cook the rice until soft.
When the rice is ready, mix in the rinsed spinach leaves, pressed cloves of garlic, goat cheese, and mix everything thoroughly together.
Hard-boil the eggs, peel them, and serve them on the cooked rice.
Share this recipe with a friend:
| | | |
| --- | --- | --- |
| | Preparation time | 30 minutes |
| | Yields | 4 servings |
Nutritional information / 1 serving
Calories
434 Kcal
Carbohydrates
44 g
Fiber
3 g
Proteins
20 g
Fat
18 g
I am a fit food wizard nutritionist and I conjure up these healthy and tasty fitness recipes.
My goal is to show you that eating healthy can be easy-breezy.
Lucia Wagner
Comments
✉️ Send me your favorite recipe.
Do you like to cook healthy and want to publish your favorite recipe on Fit Food Wizard?
Email
it to me and I will be happy to try it and publish it.