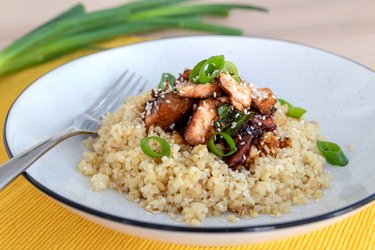 Salmon in Teriyaki sauce with bulgur
Share this recipe with a friend:
Wondering what to cook with salmon this time? Try this great recipe, for example. Salmon in Teriyaki sauce with bulgur will make you fall in love with its perfect taste. And want to know another advantage of this recipe besides the perfect taste? It's done in under 25 minutes!
The original Teriyaki sauce comes from Japanese cuisine. This version is slightly modified as I wanted it to contain as many available ingredients as possible and at the same time taste just as the original. Well, I have to say that I fell in love with it from the first time I tasted it. In short, the sauce is amazingly sweet and spicy and goes well with salmon. At the same time, it is absolutely easy to prepare - just mix everything together and pour it over the salmon directly in the pan. In case you can't get all the ingredients for this sauce, nothing will happen if you skip rice vinegar, you can also replace it with balsamic vinegar or lemon juice. And if you don't like sauces that are too sweet, just use a tablespoon of honey. If you don't like bulgur or don't have it at home, feel free to use another favorite side dish of yours - whether it's a salad, buckwheat, rice, couscous, or quinoa.
This healthy recipe for salmon in Teriyaki sauce with bulgur will also please you with its high content of protein and fiber, and even though it is a salmon dish, it is not very caloric. There is a high amount of trace elements, for instance, manganese, selenium, magnesium, vitamin B-12, niacin, and many others.
Again, if you don't know how to prepare salmon and you're in a hurry, I definitely recommend this option. So, start preparing the recipe, you will definitely love it :)
Ingredients
300g of salmon fillet
150g of dry bulgur (or any different side dish)
1 tbsp of sesame seeds
1 spring onion
for the Teriyaki sauce:
60ml of soy sauce (I recommend this one)
1-2 tbsp of honey
1 tbsp of rice vinegar (or balsamic)
1/2 tsp of salt
2 cloves of garlic
2 tbsp of water
1 tsp of grated fresh ginger
1/4 tsp of black pepper
Instructions
Cover the bulgur with twice the volume of boiling water, lightly salt, and cover the pot. Leave it covered for 10-15 minutes until it absorbs all the water.
Remove any skin from the salmon and place it on a deep non-stick pan. The pan does not need to be oiled, the salmon will be roasted on its own fat. However, if you have a less reliable frying pan, feel free to add a little oil.
Cook the salmon for about 5 minutes on both sides.
In the meantime, mix all the ingredients for the sauce together in a small bowl.
Pour the prepared sauce over the salmon in a pan and then cook it in the sauce for another 2 minutes, turning it halfway again.
Serve the finished salmon with sauce together with the cooked bulgur and at the end sprinkle the food with chopped spring onions and sesame seeds.
Share this recipe with a friend:
| | | |
| --- | --- | --- |
| | Preparation time | 25 minutes |
| | Yields | 2 servings |
Nutritional information / 1 serving
Calories
566 Kcal
Carbohydrates
57 g
Fiber
15 g
Proteins
51 g
Fat
10 g
I am a fit food wizard nutritionist and I conjure up these healthy and tasty fitness recipes.
My goal is to show you that eating healthy can be easy-breezy.
Lucia Wagner
Comments