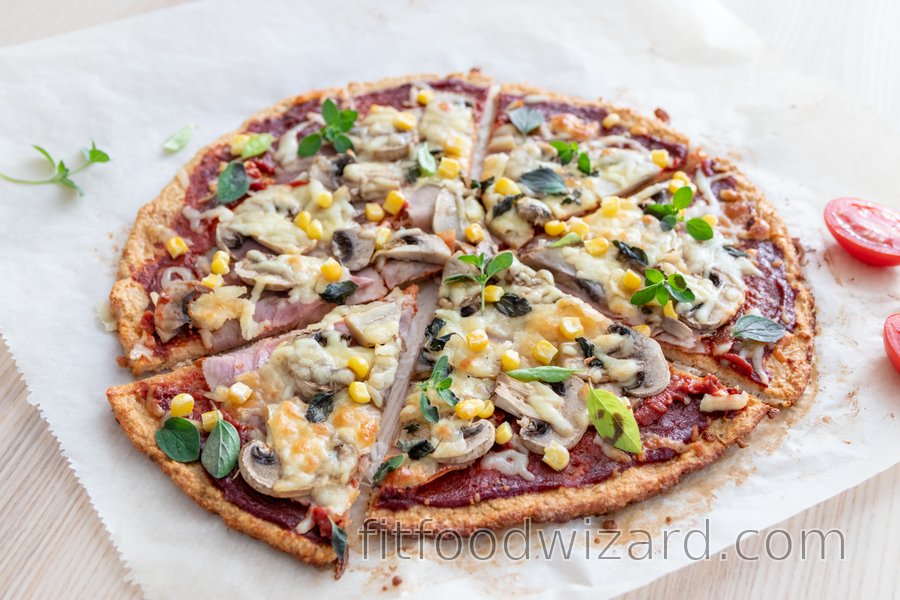 Simple fitness pizza made of quark and oats
A simple pizza made of quark and oats will please all fans of fitness and healthy food. It is significantly different from the classic pizza dough in its ingredients and preparation - it is free of flour, yeast, and it is quite simple and quick to prepare. However, even the biggest critics will love it. It is excellent and no one really notices quark or oats in it. Believe me, I've tried it ;)
This quark pizza with oats is egg-free so people suffering from allergies can also enjoy it. In addition, if you use gluten-free oats, the recipe will please all celiacs. However, do not forget to use fine oats, not whole, otherwise, the dough will not have the right consistency. Compared to a classic pizza, it is not only easier to prepare, but it is also less caloric and richer in protein and fiber. At the same time, this quark pizza is quite filling, so half of the pizza will be enough even for those with a bigger appetite.
Of course, you can choose the garnish of the pizza according to yourself, in this recipe I show my favorite combination of ingredients. If you would like to save some calories, you can reduce the amount of cheese in the recipe, or also skip olive oil from the dough. However, you will get the best result if you follow this recipe in detail. If you cannot find quark, you can use a cream cheese instead.
A simple fitness pizza made of quark and oats is ready in no time, be sure to try it too. Nutritional values ​​are calculated with the garnish for 1 of the 2 portions that result from 1 pizza. Alternatively, you can split the dough and make 2 separate smaller pizzas out of it. The recipe is really simple and I'm sure you will succeed during your first try. Be sure to try it, don't be afraid of this interesting combination of ingredients, the dough tastes amazing.
Ingredients
250g of soft quark (or cream cheese)
100g of fine oats (I recommend these)
3 tbsp of plain yogurt
1 tsp of olive oil (I recommend this one)
1/4 tsp of salt
for garnish:
100g of tomato puree
3 tbsp of water
1 clove of garlic
1 tsp of basil/oregano (fresh or dried)
150g of mushrooms
150g of high-quality ham
70g of grated mozzarella
40g of sweetcorn
Instructions
First, mix the soft quark, fine oats, yogurt, olive oil, and salt together in a bowl.
Using a spoon, lay the dough on a baking sheet lined with baking paper in the shape of a pizza. Push it with your hands so that it is approximately 0.5 cm high. Since the dough is sticky, I recommend rubbing your hands with a drop of olive oil.
Bake the prepared dough for 15 minutes at 190 degrees.
Meanwhile, mix the tomato puree, water, herbs, and a crushed clove of garlic together.
After 15 minutes, remove the pizza and spread tomato sauce on top.
Afterward, place slices of ham, thinly sliced mushrooms, cheese, and corn on the pizza.
Let the pizza be baked for another 15 minutes at 190 degrees.
| | | |
| --- | --- | --- |
| | Preparation time | 45 minutes |
| | Yields | 2 servings |
Nutritional information/ 1 serving
Calories
540 Kcal
Carbohydrates
46 g
Fiber
7 g
Proteins
49 g
Fat
16 g