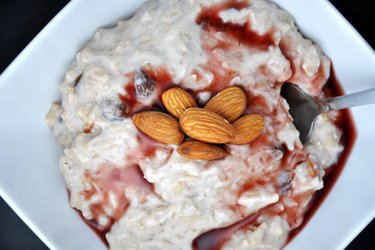 Skinny Rice Pudding with Almonds
Share this recipe with a friend:
I present to you the best recipe for skinny rice pudding so far (otherwise known as rice in milk or milk rice) with high protein content. One big and rich serving of this fitness rice pudding contains 260 kcal and up to 18 g of protein. If you like sweet recipes with rice, definitely try this milk rice with almonds, it is one of my favorite recipes.
I love the flavor of creamy rice, overcooked in milk. But in order to achieve delicious flavor, high-fat cream is very often used in milk rice recipes. Therefore, to keep it creamy, but also convert the recipe into a fit version and receive favorable nutritional values, I mixed low-fat greek yogurt into this rice, instead of heavy cream, This will additionally enrich the meal with proteins. If you would like to prepare it in even more diet and more fitness version, you can replace the honey with stevia or protein powder (but in this case, it will be much thicker). At the end I like to add in hot cherries or sour cherries to this healthy rice pudding, as it will raise its taste up.
This healthy, creamy milk rice is awesome if served still warm, but cooled as well. I like to prepare it as a healthy breakfast or dessert. Its irresistible creamy flavor with crunchy pieces of almonds and sweet cherries caress will take you to heaven. Be sure to try it out, I'm sure that even the smallest ones will love it.
Ingredients
300ml (1.3 cups) water
180g (6.3oz) brown rice (or other)
1l (4.25 cups) milk
4 to 6 Tbsp honey (I recommend this one)
2 cups plain Greek yogurt
80g (2.8oz) almonds (I recommend these)
handful of raisins (optional)
1 vanilla bean
cherries (optional)
Instructions
In a pot, boil 100ml water.
Add rinsed rice and cook until rice absorbs all the water (approximately 5 minutes).
Next, add milk, vanilla seeds, and raisins and cook over medium heat until the rice absorbs all the milk.
The rice should get sticky.
When done, remove from heat, mix in honey to taste, and leave to cool down completely (preferably in refrigerator).
Lastly, add chopped almonds and mix with Greek yogurt.
Serve cold, preferably with hot cherry sauce.
Share this recipe with a friend:
| | | |
| --- | --- | --- |
| | Preparation time | 25 minutes |
| | Yields | 6 servings |
Nutritional information / 1 serving
Calories
260 Kcal
Carbohydrates
31 g
Fiber
2 g
Proteins
18 g
Fat
7 g
I am a fit food wizard nutritionist and I conjure up these healthy and tasty fitness recipes.
My goal is to show you that eating healthy can be easy-breezy.
Lucia Wagner
Comments
✉️ Send me your favorite recipe.
Do you like to cook healthy and want to publish your favorite recipe on Fit Food Wizard?
Email
it to me and I will be happy to try it and publish it.