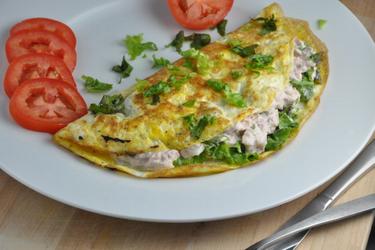 The Best Fitness Tuna Omelet
Share this recipe with a friend:
This is a perfect recipe for fitness breakfast or dinner for everyone, as it is very rich in protein and contains a low amount of carbohydrates – actually, almost none (only 4 g per serving). If you are already overeaten with pure tuna, try this delicious fitness tuna omelet - I believe you will enjoy it :)
You will definitely fall in love with this breakfast combining delicious omelet with melted cheese and creamy tuna filling. In addition, one serving contains only 218 kcal! But don't be dissuaded, even though it is a diet meal, this perfect tuna omelet will definitely make you a pleasant surprise by its taste and it really will satiate you. Such a fitness omelet is simply a perfect start of a new day. Complete it with your favorite vegetables and great nutritionally valuable breakfast is on a table.
Eggs are a valuable part of a healthy and balanced diet because they provide high quality protein and a whole range of vitamins (A, E, D and K, vitamins B) and minerals (especially phosphorus, iron, zinc and sulfur). Egg consumption is beneficial in weight control, brain health, eye function, and optimal health condition during pregnancy. Studies have shown that egg consumption for breakfast increases the feeling of satiety, what results in lower calorie intake per day. It is a relatively inexpensive and nutritionally valuable meal that is also beneficial for the muscle growth and better skin condition.
Ingredients
200g (7oz) tuna in water (I recommend this one)
⅓ onion
5 Tbsp white Greek yogurt
1 Tbsp finely chopped celery or other vegetables
chopped parsley
1 to 2 Tbsp lemon juice
Omelet:
6 eggs
50 ml milk (of your own choice)
2 tsp. coconut oil (I recommend this one)
50g (1.7oz) grated cheese
¼ tsp. sea salt (I recommend this one)
pinch of ground black pepper
Instructions
Mix together all ingredients for tuna salad.
Whisk together eggs, milk, salt, and pepper in a different bowl.
In a pan, melt 1 spoonful of oil and pour in half of the prepared egg mixture. If you're using a non-stick frying pan of good quality, oil is not necessary.
While still in a pan, sprinkle the omelet with half of the grated cheese and let it melt.
When the omelet is done, take it out of the pan and spread with half of the tuna salad.
Following the same directions to prepare the second omelet.
Share this recipe with a friend:
| | | |
| --- | --- | --- |
| | Preparation time | 15 minutes |
| | Yields | 2 servings |
Nutritional information / 1 serving
Calories
388 Kcal
Carbohydrates
6 g
Fiber
1 g
Proteins
48 g
Fat
18 g
I am a fit food wizard nutritionist and I conjure up these healthy and tasty fitness recipes.
My goal is to show you that eating healthy can be easy-breezy.
Lucia Wagner
Comments
✉️ Send me your favorite recipe.
Do you like to cook healthy and want to publish your favorite recipe on Fit Food Wizard?
Email
it to me and I will be happy to try it and publish it.