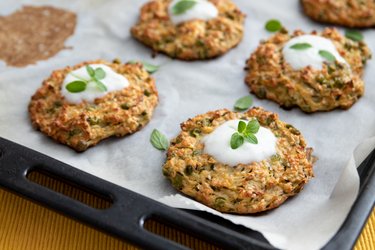 Zucchini fritters with feta cheese
Share this recipe with a friend:
You will love baked zucchini fritters with feta cheese, especially if you are a fan of more unconventional combinations of flavors. In addition to zucchini, in this recipe, you will find oats, peas, feta cheese, sesame seeds, garlic, and rosemary or dill. If you are intrigued by this combination, check if you have all the ingredients at home and if so, come and prepare them. It's completely quick and easy!
Zucchini is an amazingly versatile vegetable that can be used in the kitchen in almost all dishes. And baked zucchini fritters or pancakes are one of my favorite zucchini dishes. You will find only healthy ingredients in them that create a heavenly combination of flavors together.
These zucchini fritters with feta cheese are soft after baking. You can enjoy them on their own or with your favorite salad or sauce - I recommend a simple sauce made of yogurt, salt and fresh herbs. Coleslaw salad goes perfect with them as well: Skinny Healthy Coleslaw Salad .
If you have a supply of zucchini at home, do not hesitate and try this interesting combination of ingredients in the form of baked fritters. Ideally served as a healthy dinner.
Ingredients
450g of zucchini
120g of feta cheese
50g of fine oats (I recommend these)
50g of peas
1 egg
2 tbsp of sesame seeds
1/2 tsp of salt
2 cloves of garlic
pinch of ground black pepper
rosemary or dill (to taste)
Instructions
Roughly grate the zucchini and squeeze out as much water as possible (either with a cloth or gauze).
In a bowl, mix the squeezed zucchini with crumbled feta cheese, egg, oats, peas, sesame seeds, salt, and pepper.
Using a spoon, make a thicker dough, then portion it on a baking sheet lined with baking paper while shaping smaller fritters.
Bake the fritters for 25-30 minutes at 200 degrees until golden.
Share this recipe with a friend:
| | | |
| --- | --- | --- |
| | Preparation time | 40 minutes |
| | Yields | 8 patties |
Nutritional information / 1 patty
Calories
99 Kcal
Carbohydrates
7 g
Fiber
2 g
Proteins
5 g
Fat
5 g
I am a fit food wizard **nutritionist** and I conjure up these healthy and tasty fitness recipes. My goal is to show you that eating healthy can be easy-breezy.
Lucia Wagner
Comments
Please log in to FaceBook to display comments.
✉️ Send me your favorite recipe.
Do you like to cook healthy and want to publish your favorite recipe on Fit Food Wizard?
Email
it to me and I will be happy to try it and publish it.