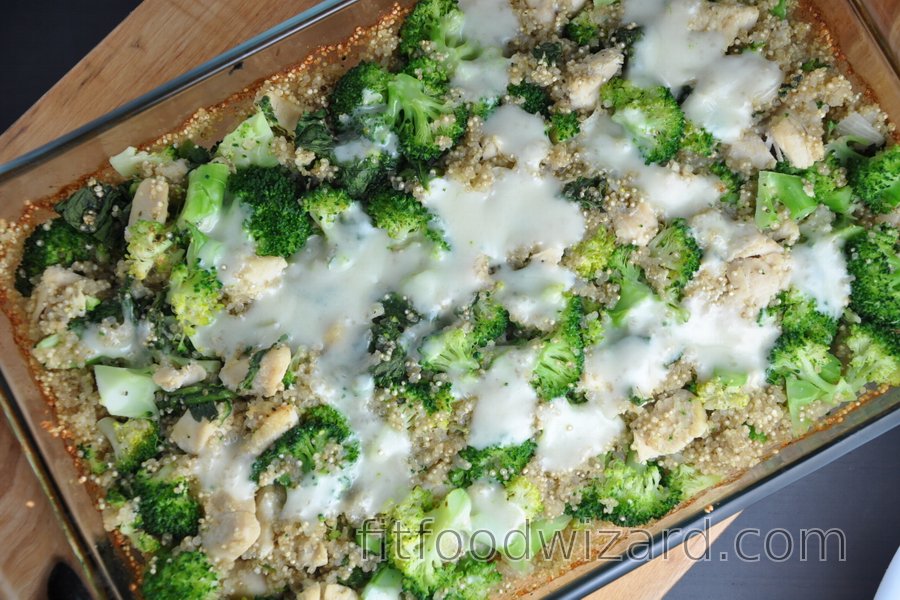 Baked Quinoa with Broccoli and Chicken
Whoever likes baked meals will definitely enjoy this meal. Besides the fact that this baked quinoa with broccoli and chicken meat is tasty, it is also very healthy. It contains high amount of protein (up to 28 g per serving), vitamins and minerals.
I think the combination of broccoli, quinoa and chicken meat in this recipe is impeccable. I prefer to serve it as a healthy lunch or dinner. I come back to this healthy recipe, whenever I really do not know what to cook. The recipe for such a lunch or dinner will also please celiacs, because it is completely gluten-free.
Quinoa is rightly classified as superfood and you should definitely try it in this form too. This baked quinoa is incredibly creamy because of the added cheese. I recommend using grated mozzarella, but if you have another kind of cheese at home, you can use it either. From the stated amount of ingredients you will get 6 smaller servings, so you can easily pack the meal and take it to school or work with you for the next day (of course, only if something remains left). This recipe is perfect for meal boxes.
Ingredients
2 cups dry quinoa (I recommend this one)
4 cups chicken/vegetable/beef stock
300g (10.5oz) chicken breasts
1 tsp. sea salt
a pinch of black pepper
a pinch of garlic powder
2 handfuls of fresh spinach
150g (5.3oz) grated cheese
300g (10.5oz) broccoli
½ onion
2 Tbsp basil pesto (optional)
Instructions
Cook the chicken breasts in water for about 20 minutes.
Add salt and spices into stock and pour over quinoa in a pot. Stirring occasionally, cook quinoa until all the liquid is absorbed.
Cut broccoli into pieces and steam for approximately 5 minutes.
In a bowl, mix cooked chicken breasts, quinoa, cut broccoli, spinach, finely chopped onion, and (optionally) pesto.
Put the mixture into a baking form, sprinkle with grated cheese, and bake at 200 degrees Celsius (390 °F) for 5 to 10 minutes.
Serve warm.
| | | |
| --- | --- | --- |
| | Preparation time | 40 minutes |
| | Yields | 6 servings |
Nutritional information/ 1 serving
Calories
365 Kcal
Carbohydrates
40 g
Fiber
5 g
Proteins
28 g
Fat
8 g