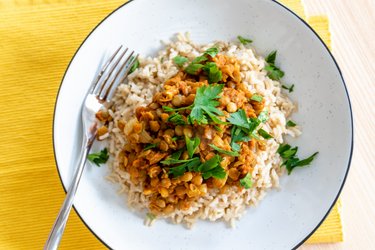 Easy Indian Lentil Curry
Share this recipe with a friend:
Excellent and easy Indian style lentil curry. Serve yourself flavors of distant Asia at your home and prepare this tasty lentil curry with brown rice. This healthy lentil recipe is quite easy to prepare.
Lentils often appear in Indian cuisine, thus recipes and ideas from this region are almost endless. In this recipe, you will find a combination of lentils, milk, tomato paste and curry powder, which seems exotic at first glance. Lentils are full of flavors and, together with brown rice, they form a nutritionally valuable meal that is rich in protein and fiber. Moreover, it is pretty filling, low-fat and low-calorie. Such features make this vegetarian lentil meal ideal for almost any diet and for weight loss too.
Indian lentil curry can be ready in just 40 minutes and it will please the entire family. It is best for lunch, but you can also prepare it as a healthy, warming dinner. And don't forget about the spice garam masala - it's a mixture of spices from South Asia, which will enrich the food with all the right, exotic flavors. Be sure to try this fit recipe with lentils and let me know how did you enjoy it.
Ingredients
220 g (8 oz) lentils
200 g (7 oz) brown rice
300 g (10.5 oz) tomato sauce
150 ml (5 oz) milk (any)
2 cloves of garlic
1 onion
1 Tbsp olive oil (I recommend this one)
1 tsp sea salt
1-2 tsp curry powder
1/4 tsp turmeric
1 tsp garam masala spice
Instructions
Cook the rice in double the amount of water, seasoned with salt until soft, for about 12 minutes.
In a larger pot, heat up the olive oil, add finely chopped onion and cook for a few minutes, stirring occasionally.
Add in lentils and pour them with twice the amount of water.
Cook the lentils until soft, for 15-20 minutes. If necessary, add more water.
Then add tomato sauce, milk, sea salt, spices and cook the mixture until thick, stirring occasionally.
Allow the lentil mixture to boil for 5 minutes and then you can serve the meal together with cooked rice.
Share this recipe with a friend:
| | | |
| --- | --- | --- |
| | Preparation time | 40 minutes |
| | Yields | 4 servings |
Nutritional information / 1 serving
Calories
290 Kcal
Carbohydrates
45 g
Fiber
8 g
Proteins
10 g
Fat
5 g
I am a fit food wizard nutritionist and I conjure up these healthy and tasty fitness recipes.
My goal is to show you that eating healthy can be easy-breezy.
Lucia Wagner
Comments
✉️ Send me your favorite recipe.
Do you like to cook healthy and want to publish your favorite recipe on Fit Food Wizard?
Email
it to me and I will be happy to try it and publish it.