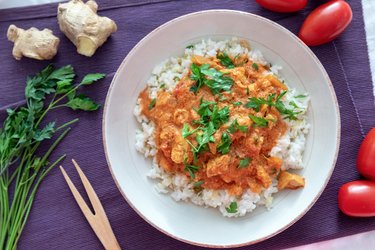 Fit chicken Tikka Masala
Share this recipe with a friend:
Let's go to India again together. Fit chicken Tikka Masala is another of my favorite dishes that will surprise you with its unconventional, oriental flavors. In this meal, you will find a lot of exotic spices that will give it a fantastic flavor. But don't worry, the food is not difficult to prepare at all, although it may seem so at first glance. Come and have a look.
Tikka Masala is a traditional Indian dish that hides pieces of chicken wrapped in a creamy tomato sauce full of all kinds of spices. Garam masala, turmeric, fresh ginger, cumin, coriander, and cardamom are a must in this recipe. If by chance these spices are not yet present in your pantry, go and fix it - you can prepare a lot of incredibly tasty dishes from them. And you will probably find them in every bigger supermarket. Chicken tikka masala belongs to one of the most popular dishes in Great Britain as well.
This healthy chicken Tikka Masala is thickened with yogurt, so you will not find any unnecessarily high-fat whole cream in it, which is commonly used in this meal (and not in small amounts). But do not forget to use yogurt with a fat content of about 3%, as in this case, it will not clump. This Tikka Masala in a fit version contains only 5 g of fat per serving and over 50 g of protein!
I must say that this dish tastes best when you let the meat marinate overnight in the refrigerator. Then all the flavors of the food have the time to be perfectly combined. So make a note on your phone and try this yummy oriental dish tomorrow :)
Ingredients
1kg of chicken breasts
50g of tomato puree
1 tbsp of olive oil (I recommend this one)
1 onion
450g of chopped tomatoes (can be canned)
handful of parsley
300g of plain yogurt (3% fat content)
4 tsp of freshly grated ginger
6 cloves of garlic
2 tsp of turmeric
3 tsp of garam masala spice
2 tsp of ground coriander
1 tsp of salt
1 tsp of ground cumin
pinch of cardamom
Instructions
In a bowl, mix half of the yogurt with all the spices.
Add the chicken cut into small pieces, mix it thoroughly with the marinade and let it marinate covered in the fridge (ideally overnight).
The next day, fry the finely chopped onion in a large pot in heated oil.
Add chopped tomatoes, tomato puree, and stir for a while.
Then add the marinated meat together with the marinade.
Stir the meat and sauce well, cover, and let it simmer for 25 minutes, stirring occasionally.
Then uncover the meat, add the pressed cloves of garlic and cook it uncovered for another 5-10 minutes.
Remove the meat from the heat and mix the second part of the yogurt into it.
Finished chicken Tikka Masala is served with cooked rice as a side dish (preferably basmati or jasmine).
Share this recipe with a friend:
| | | |
| --- | --- | --- |
| | Preparation time | 45 minutes |
| | Yields | 5 servings |
Nutritional information / 1 serving
Calories
320 Kcal
Carbohydrates
12 g
Fiber
2 g
Proteins
51 g
Fat
5 g
I am a fit food wizard nutritionist and I conjure up these healthy and tasty fitness recipes.
My goal is to show you that eating healthy can be easy-breezy.
Lucia Wagner
Comments