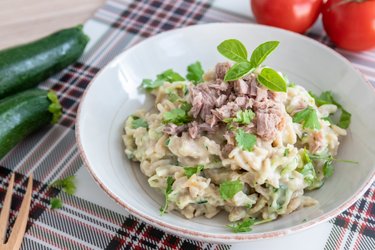 Fit creamy pasta with zucchini
Share this recipe with a friend:
Zucchini, cheese, pasta, garlic, and tuna sound like a delicious combination, right? If you are interested in these ingredients combined together, be sure to save this recipe for fit creamy pasta with zucchini. It is a super simple dish that is exceptionally tasty and at the same time relatively diet-friendly.
This dish with pasta and zucchini is also the perfect source of a lot of micronutrients, but also protein and fiber. It is quite filling, but best of all, you will not feel heavy on the stomach after eating this meal. All that remains is a good feeling of healthy food and pleasant flavor. Fit creamy pasta with zucchini will be ready in just half an hour.
Instead of a heavy cream, we will use milk with mozzarella in the sauce - if you can, use grated, low-fat mozzarella. If you want, you can skip the butter, but in my experience, it makes this dish even more delicious, and just a tablespoon of it is enough.
Come try this healthy zucchini pasta in creamy sauce, I'm sure you'll like the recipe. So enjoy :)
Ingredients
400g of whole grain pasta (I recommend this one)
500g of grated zucchini
100g of grated mozzarella (or other type of cheese)
380ml of milk of your choice
1 tbsp od butter
2 tbsp of any flour
salt, ground black pepper (to taste)
2 cloves of garlic
400g of tuna (optional) (I recommend this one)
Instructions
Cook the pasta in salted, boiling water until soft and drain it.
Mix a small amount of milk with 2 tablespoons of flour.
Heat the remaining milk in the same pot you cooked pasta in over a low flame.
Add butter, milk mixed with flour, pressed garlic cloves, salt, pepper, and let it simmer.
Mix the cheese into the sauce and let it melt completely to thicken the sauce even more.
Finally, mix in the grated zucchini and cooked pasta, and mix everything well together.
Can be served together with tuna.
Share this recipe with a friend:
| | | |
| --- | --- | --- |
| | Preparation time | 30 minutes |
| | Yields | 4 servings |
Nutritional information / 1 serving
Calories
587 Kcal
Carbohydrates
73 g
Fiber
12 g
Proteins
42 g
Fat
11 g
I am a fit food wizard nutritionist and I conjure up these healthy and tasty fitness recipes.
My goal is to show you that eating healthy can be easy-breezy.
Lucia Wagner
Comments
✉️ Send me your favorite recipe.
Do you like to cook healthy and want to publish your favorite recipe on Fit Food Wizard?
Email
it to me and I will be happy to try it and publish it.