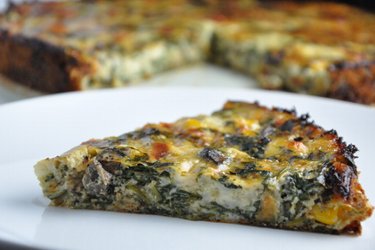 Gluten-Free Spinach Quiche
Share this recipe with a friend:
With this recipe, I just thought back about my childhood times. If the spinach quiche associates you with anything, this recipe will enrich your ideas about the delicious flavors, healthy tinge and joy of preparation.
The spinach quiche has its roots in France, as you can see by its name. As this nation is a champion of enjoying good food and wine, savory quiche was originally made of bread dough, and later they began to use more smooth dough, for example the puff pastry dough. Today I gift you a recipe for healthy quiche, completely flour-less and gluten-free.
Recipe for gluten-free spinach quiche is full of healthy ingredients, where the main ingredient is probably the most nutritious leaf vegetable with a lots of vitamins - spinach and a helper with the slim line enriched with calcium and a necessary dose of protein - cottage cheese . In the recipe, you can use any kind of cheese together with cottage cheese. I like the most to add in some grated mozzarella. This tasty spinach cake is even low calorie and low carbohydrate, thus it's also ideal as a weight loss meal.
Additionally, you can enjoy the recipe if you prefer the excellent source of antioxidants - corn and small and handy low-carbohydrate mushrooms. This ** healthy flour-less spinach quiche** can be prepared in less than half an hour and you can serve it as a real treat for friends or simply as a healthy dinner full of proteins.
Ingredients
½ onion
200g (7 oz) mushrooms
1 tsp olive oil (I recommend this one)
4 cups fresh spinach
1 cup cottage cheese
4 eggs
½ cup shredded mozzarella (or other cheese)
black pepper (to taste)
sweet paprika (to taste)
salt (to taste) (I recommend this one)
Instructions
In a pan, sauté onion in a spoonful of oil and add cut mushrooms.
Cook approximately 3 minutes and then fold in spinach.
Stir until spinach releases its water and cook until the water is evaporated.
When the mixture is dry, remove from the heat.
In a bowl, mix eggs with cottage cheese, grated cheese, salt and spices.
Add spinach mixture and mix thoroughly.
Pour batter into a cake pan or other baking pan and line with parchment paper.
Bake at 175 degrees Celsius (345 °F) for 30 minutes until the top of the quiche turns brown.
Depending on your taste, you can also add tomatoes, olives, goat cheese, corn, asparagus, or cooked meat into the quiche.
Share this recipe with a friend:
| | | |
| --- | --- | --- |
| | Preparation time | 40 minutes |
| | Yields | 6 slices |
Nutritional information /
Calories
101 Kcal
Carbohydrates
3 g
Fiber
1 g
Proteins
8 g
Fat
7 g
I am a fit food wizard nutritionist and I conjure up these healthy and tasty fitness recipes.
My goal is to show you that eating healthy can be easy-breezy.
Lucia Wagner
Comments