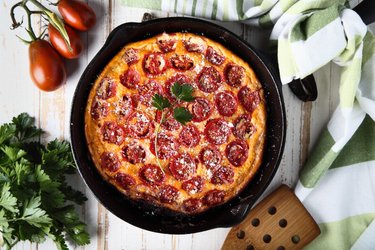 Low-carb tomato frittata
Share this recipe with a friend:
This fluffy low-carb tomato frittata recipe will charm every egg and tomato lover. It is suitable for breakfast, dinner, or snack, and the recipe is super easy to prepare. Come and try it, frittata with tomatoes is an absolute treat!
It is not for nothing that Italian cuisine is so popular. This meal also originated in the land of Italy and is similar to a quiche without the crust. The advantage of the frittata is that you can always add different ingredients into it, depending on what you like or what you have in your fridge or garden at the moment. Egg frittata is a really simple recipe any beginner in the kitchen can prepare.
Instead of breakfast scramble, try using eggs to prepare this frittata with tomatoes. And if you manage to get fresh eggs from the farm and tomatoes ripened by the sun in the garden, you can look forward to a real explosion of flavors.
From listed ingredients, you will get 2 filling portions, 1 of them contains 230 Kcal and is loaded with proteins. As the name of the recipe suggests, this frittata is low in carbs. If you don't eat any bread with it, but opt for a salad, for example, you can enjoy a fantastic low-carb dinner.
Tip: Next time, try to prepare this frittata with mushrooms and leeks! It's also a great combination and it belongs to my favorites.
Ingredients
4 large eggs
2 tbsp of milk
2 tbsp of tomato puree
3 tbsp of grated Parmesan cheese
250g of cherry tomatoes
1 tsp of olive oil (I recommend this one)
ground black pepper
1/2 tsp of sea salt
Instructions
In a bowl, mix eggs, milk, tomato puree, sea salt, ground black pepper, and a spoonful of grated Parmesan cheese.
Heat olive oil in a deeper pan.
Pour egg mixture into the pan.
Cover the pan and let it simmer on a medium flame for 5 minutes until most of the frittata thickens.
Top the frittata with chopped cherry tomatoes and the rest of the Parmesan cheese and let it cook covered for about another 5-7 minutes, occasionally checking that it does not burn.
Share this recipe with a friend:
| | | |
| --- | --- | --- |
| | Preparation time | 15 minutes |
| | Yields | 2 servings |
Nutritional information / 1 serving
Calories
230 Kcal
Carbohydrates
6 g
Fiber
2 g
Proteins
17 g
Fat
15 g
I am a fit food wizard nutritionist and I conjure up these healthy and tasty fitness recipes.
My goal is to show you that eating healthy can be easy-breezy.
Lucia Wagner
Comments