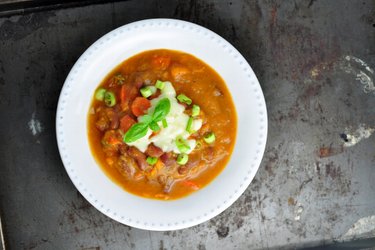 Thick Bean Soup with Sweet Potatoes
Share this recipe with a friend:
Delicious recipe for a healthy, thick bean soup with sweet potatoes, which can also be served as a main dish. It will fill you up very well and smuggle a lot of fiber, vitamins and minerals into your diet menu. You will definitely love the taste of this healthy bean soup.
I like sweet potatoes not only because of their health benefits, but mainly because of their irreplaceable taste in meals - both savory and sweet. Together with carrot, they give a slightly sweet taste to the soup, which is irresistible in combination with beans. By cutting a part of sweet potatoes into small pieces, they will overcook beautifully and thus create a thick and creamy consistency of the soup, without the need for using a blender. The soup is extremely rich in fiber, vitamin A, C and iron. Another perks of the recipe are high protein and low fat content. If you don't like sweet potatoes by chance, you can also prepare it with classic potatoes, but I strongly recommend giving this combination a try.
Such warm and thick soups are particularly ideal for chilly autumn weather. I prefer to serve the bean soup sprinkled with grated cheese, but vegans can omit it.
This easy and healthy soup with sweet potatoes and beans is definitely worth trying out.
Ingredients
500 g (18 oz) sweet potatoes
200 g (7 oz) dry red beans
200 g (7 oz) carrots
2 stalks of celery
1 small onion
1 tsp coconut oil (I recommend this one)
1 tsp sea salt
1 tsp sweet paprika
1/2 tsp ground marjoram
1/2 tsp ground black pepper
Instructions
Soak the beans in water for a night. Rinse them well before cooking.
Peel the sweet potatoes and dice one half of them finely, the other half into larger pieces.
In a large pot, melt a teaspoon of oil and lightly saute finely chopped onion.
Add in the beans, diced potatoes, chopped carrots, celery stalks and pour with water so that the water level is about 2 cm (0.8 in) above the content of the pot.
Season the soup with salt and spices and cook it covered for 30-40 minutes.
Just before the end, add in crushed cloves of garlic, stir it a couple of times to thicken it with overcooked potatoes and serve the soup warm.
Share this recipe with a friend:
| | | |
| --- | --- | --- |
| | Preparation time | 50 minutes |
| | Yields | 4 servings |
Nutritional information / 1 serving
Calories
292 Kcal
Carbohydrates
49 g
Fiber
16 g
Proteins
15 g
Fat
1 g
I am a fit food wizard nutritionist and I conjure up these healthy and tasty fitness recipes.
My goal is to show you that eating healthy can be easy-breezy.
Lucia Wagner
Comments