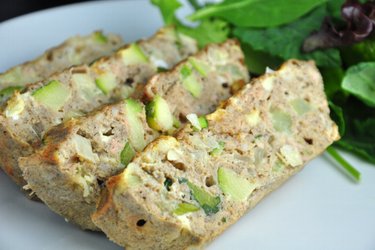 Fit Baked Tuna Omelette
Share this recipe with a friend:
Do you also love to have eggs for breakfast? Then, out of countless ways to prepare them, you also have to try this fit baked tuna omelette. This healthy, low carb breakfast will please all your family members, children and adults too!
Omelette baked in a silicone pan has a smoother and more tender taste and is also easier to digest, since you don't need to use any oil for baking. It will perfectly prepare you for a new day and, thanks to its high protein content, this baked omelette with tuna will also fill you up very well.
You won't wonder anymore, why Spaniards adore the omelette for breakfast so much. They prepare it in many ways, as vegetarian or meat variations. This healthy, low-calorie and low-fat version contains zucchini and tuna, ingredients that bring tenderness and an amazing taste. It's unbelievable how many wonderful recipes can be conjured up in combination with tuna!
You can serve the fit baked tuna omelette sprinkled with grated cheese along with a slice of whole-wheat bread. However, it is also excellent without any bread, which can be replaced with fresh vegetables such as tomatoes, bell pepper or cucumber.
*The omelette will also hold together without any flour. It therefore isn't necessary in the recipe, but if you use some flour, the omelette will become even firmer and denser.
Ingredients
150 g (5.3 oz) tuna in its own juice (I recommend this one)
1 baby zucchini
1/2 onion
2 cloves of garlic
4 eggs
handful of grated cheese (e.g. mozzarella)
2 Tbsp spelt or other flour (optional) (I recommend this one)
1 tsp sea salt
1/4 tsp ground sweet paprika
1/4 tsp ground black pepper
Instructions
Shred or cut zucchini and onion finely.
In a bowl, mix it together with tuna (drained of water), crushed garlic cloves and eggs.
Next, fold in all the remaining ingredients and stir thoroughly.
Pour the resulting mixture into a silicone bread loaf pan or a bread loaf pan lined with parchment paper.
Bake for 30-40 minutes at 180 degrees Celsius (355 degrees Fahrenheit) until golden.
Before cutting, let it cool in the pan for at least 5 minutes to prevent it from falling apart.
Share this recipe with a friend:
| | | |
| --- | --- | --- |
| | Preparation time | 35 minutes |
| | Yields | 2 servings |
Nutritional information / 1 serving
Calories
242 Kcal
Carbohydrates
2 g
Fiber
0 g
Proteins
31 g
Fat
13 g
I am a fit food wizard nutritionist and I conjure up these healthy and tasty fitness recipes.
My goal is to show you that eating healthy can be easy-breezy.
Lucia Wagner
Comments
✉️ Send me your favorite recipe.
Do you like to cook healthy and want to publish your favorite recipe on Fit Food Wizard?
Email
it to me and I will be happy to try it and publish it.