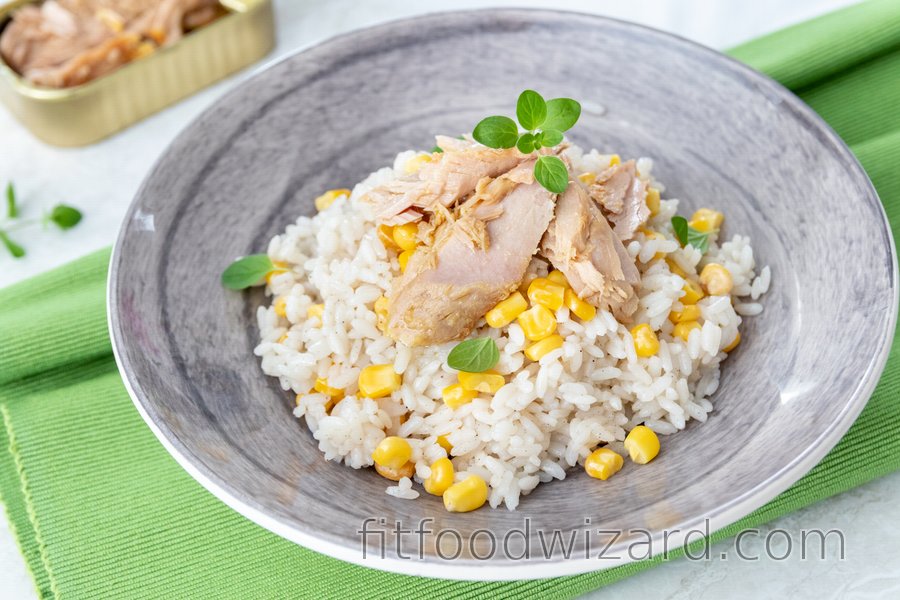 Are you looking for a quick and completely easy recipe with a balanced amount of protein, complex carbohydrates and healthy fats? Fit tuna rice with corn is then the right choice for you! Moreover, this fit recipe can be handled by every beginner in the kitchen - you basically just need to know how to cook the rice :)
It is time for your children (or husband) to learn how to cook something more than just a tea and scrambled eggs. The good news is that we're starting this recipe just like we do with scrambled eggs, so we won't burden newcomers with too much of new information. So we start the recipe with an onion and oil, and then it's just brown rice cooked until tender. Congratulations, the heaviest part of the recipe is behind us, you can praise and motivate your newcomers. Now we just need to add corn and tuna into the cooked rice. Unbelievable! The tuna smell spilled all over the kitchen. You have some great cooks at home, really!
Preparing quick and healthy food does not have to be complicated at all. If you haven't tried this combination yet, I definitely recommend it. Rice will fill you up well, tuna will give it a taste as well as a nice portion of protein, and corn will multiply it all with its delicious, sweet taste. This healthy and fit tuna rice with corn is ideal as a quick and healthy lunch, but feel free to serve it as a dinner too. The beauty is in simplicity, in this case, the taste is.
Instructions
In a smaller pot, heat up coconut oil, add finely chopped onion and sauté.
Add in brown rice, pour over with a double amount of water, season with salt and pepper and let it boil over a low heat until the rice soaks up all the water.
Finally, combine cooked rice with corn and tuna in olive oil and serve warm.
| | | |
| --- | --- | --- |
| | Preparation time | 25 minutes |
| | Yields | 2 servings |
Nutritional information/ 1 serving
Calories
308 Kcal
Carbohydrates
44 g
Fiber
3 g
Proteins
20 g
Fat
5 g