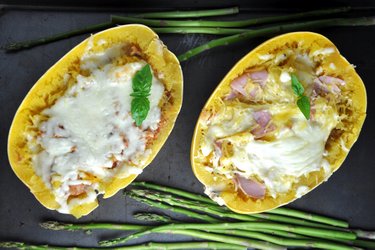 Healthy Stuffed Spaghetti Squash
Share this recipe with a friend:
Excellent and healthy meal that will fill you up and supply your body with a lot of vitamins, without unnecessarily high carbohydrate content. Healthy stuffed spaghetti squash is a great choice for a nutritious and low-fat lunch full of protein.
Spaghetti squash contains high amount of beta-carotene (which is converted into vitamin A inside the body) - you can find up to 450% of the recommended daily dose in just one squash! One squash also gives you 50% RDA of vitamin C and it also contains a measurable amount of vitamins B, lutein, potassium, manganese, iron, calcium, phosphorus, zinc and omega-3 and -6 fatty acids. If you love the taste, this squash can be a perfect, nutritionally rich substitute for pasta. In fact, after baking, it is possible to easily scrape out the strands of cooked squash "into spaghetti" with a fork.
I used two different fillings in this recipe for stuffed spaghetti squash. Thus you can choose the one that suits your tastes better or create your own filling according to your preferences. Minced meat, mushrooms, dried tomatoes or any vegetables are perfect for this recipe as well. Even in this recipe you can easily release your fantasy or just follow your personal preferences.
If you like squash, you must try this fit recipe for a healthy stuffed spaghetti squash! I believe it won't be the last time you make it :)
Ingredients
1 spaghetti pumpkin
For the ham filling:
100 g (3.5 oz) high quality ham (chopped finely)
2 Tbsp low fat sour cream (or ricotta)
40 g (1.4 oz) grated cheese
fresh basil or oregano
garlic powder
For the tuna filling:
75 g (2.6 oz) tuna in its own juice (drained of juice) (I recommend this one)
40 g (1.4 oz) grated cheese (mozzarella)
1 egg
1 Tbsp tomato paste (or sugar-free ketchup)
1/4 onion
fresh basil or oregano
garlic powder and ground black pepper (to taste)
pinch of sea salt
Instructions
Cut squash in half lengthways, scrape out the seeds and discard.
Pour around 2 centimeters of water into an oven dish or a deeper pan, then place both halves of the squash (inside down) and cover with aluminum foil.
Bake the pumpkin for 45 minutes at 205 degrees Celsius (400 degrees Fahrenheit).
After 45 minutes, take the squash out of the oven, turn it around and scrape the strands of cooked squash out with a fork to make spaghetti.
Prepare the individual fillings by mixing all the ingredients together.
Then combine the squash strands with the filling and divide it into the hollow squash bowls.
Bake the stuffed squash uncovered for another 10-15 minutes.
Share this recipe with a friend:
| | | |
| --- | --- | --- |
| | Preparation time | 75 minutes |
| | Yields | 2 servings |
Nutritional information / 1 serving
Calories
380 Kcal
Carbohydrates
41 g
Fiber
10 g
Proteins
34 g
Fat
7 g
I am a fit food wizard nutritionist and I conjure up these healthy and tasty fitness recipes.
My goal is to show you that eating healthy can be easy-breezy.
Lucia Wagner
Comments