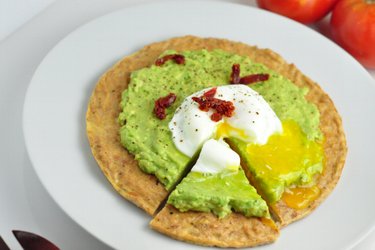 Low Carb Tuna-Avocado Pizza with Poached Egg
Share this recipe with a friend:
Delicious, healthy, low carb tuna-avocado pizza with poached egg, with high protein and low carbohydrate content. Enjoy it for breakfast, lunch or dinner, it tastes the best while still warm. This healthy tuna pizza is one of my most favorite fitness recipes at all.
Pizza crust is unconventionally made out of tuna, eggs, water and chickpea flour, so it is possible to prepare it completely gluten-free. However, if you don't have chickpea flour at home, you can replace it with any other flour to maintain the right consistency. Spread the mashed avocado on the baked pizza crust and decorate the top of the pizza with a perfectly cooked poached egg and dried tomatoes. Trust me, this healthy meal tastes even better than it looks. In addition to the perfect taste, you can also look forward to outstanding nutritional values. This low carb pizza contains rich amount of protein, fiber and healthy fats. 2 servings come out of one pizza and they are filling enough, but of course, if you are very hungry, you can indulge yourself with the entire pizza without remorse.
Already 1 serving of this healthy low carb pizza is quite rich in selenium, phosphorus, zinc, B vitamins, iron, magnesium and vitamins D, A and E.
If you love pizza and tuna dishes in any way, try this playful variation full of protein, it will certainly not disappoint you.
Ingredients
150 g (5.3 oz) tuna in its own juice (I recommend this one)
2 eggs
3 Tbsp water
3 Tbsp chickpea (or another) flour (I recommend this one)
pinch of sea salt
pepper (to taste)
For garnish:
1 avocado
1 egg
pinch of ground black pepper
dried tomatoes (optional)
Instructions
In a bowl, mix together tuna drained of juice, 2 eggs, water, chickpea (or any other) flour, salt and pepper.
Pour the dough into a round cake pan (about 22 cm (8.7 inch) in diameter) lined with parchment paper or sprayed with oil.
Bake the dough for 15-20 minutes at 180 degrees Celsius (356 degrees Fahrenheit) until golden.
In a small bowl, mash the avocado with a fork.
Add a pinch of ground black pepper.
Spread the avocado puree on a baked pizza crust.
Finally, prepare a poached egg. In a smaller pot, let the water boil and then reduce the flame to a minimum so that water stops simmering.
Stir the water to create a gentle whirlpool and then slowly tip the cracked egg into the centre.
Let it cook for 3-4 minutes.
Then lift the egg out with a slotted spoon, place it in the middle of the pizza and cut gently.
For the best effect, it is recommended to use fresh eggs.
At the end, we can top off the pizza with dried tomatoes.
Share this recipe with a friend:
| | | |
| --- | --- | --- |
| | Preparation time | 30 minutes |
| | Yields | 2 servings |
Nutritional information /
Calories
411 Kcal
Carbohydrates
15 g
Fiber
7 g
Proteins
33 g
Fat
24 g
I am a fit food wizard nutritionist and I conjure up these healthy and tasty fitness recipes.
My goal is to show you that eating healthy can be easy-breezy.
Lucia Wagner
Comments