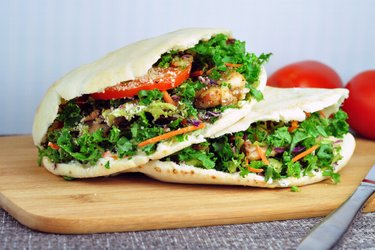 Simple stuffed pita with fish and lettuce
Share this recipe with a friend:
A simple quickie for lunch or dinner for the whole family. You will fall in love with this simple pita stuffed with fish and lettuce, which has less than 350 kcal per serving. Food as ordered from the local fast food, just in a much healthier and more nutritious form without unnecessary oil and fats. And you only need a couple of ingredients to make it.
Whole-grain pita bread is a great helper in the kitchen, especially at a time when you are hungry and you have cravings for something healthy, satiating, tasty, full of colors and flavors and do not want to spend a lot of time behind the stove. It can be filled with practically anything and you have as many choices as ingredients in the fridge and fantasies in your mind.
This pita bread stuffed with lettuce and fish is great and if you like fish, you will definitely enjoy this combination. I used tilapia fish in the recipe. Sour cream and mustard together create the perfect sauce for any fish you choose. The food does not contain a lot of fat or overall calories. On the contrary, it fills you with a lot of protein. It is also suitable for diets and, of course, for anyone who wants to enjoy a good and nutritious meal at any time of the day.
Fill your pita bread with your favorite vegetables, sprinkle with Parmesan or other grated cheese and season with spices to your liking. In a few minutes, you are ready to quench your hunger with something really good. This pita stuffed with fish and lettuce is simply worth a try.
Ingredients
2 whole wheat pita flatbreads
300g of baked fish (tilapia, salmon,...)
2 handfuls of lettuce
2 tbsp of sour cream
2 tsp of mustard
1 tomato
cheese, Parmesan is the best (optional)
Instructions
Heat the pita bread briefly in the oven or microwave.
Cut a larger hole in the pita bread with a knife.
Spread sour cream and mustard on the inside of the bread.
Place lettuce, chopped tomato, and cooked and boned fish inside the pita.
The filling can be seasoned to taste.
You can also add any grated, or Parmesan cheese to your pita.
Share this recipe with a friend:
| | | |
| --- | --- | --- |
| | Preparation time | 10 minutes |
| | Yields | 2 pieces |
Nutritional information / 1 piece
Calories
347 Kcal
Carbohydrates
34 g
Fiber
6 g
Proteins
38 g
Fat
6 g
I am a fit food wizard nutritionist and I conjure up these healthy and tasty fitness recipes.
My goal is to show you that eating healthy can be easy-breezy.
Lucia Wagner
Comments
✉️ Send me your favorite recipe.
Do you like to cook healthy and want to publish your favorite recipe on Fit Food Wizard?
Email
it to me and I will be happy to try it and publish it.