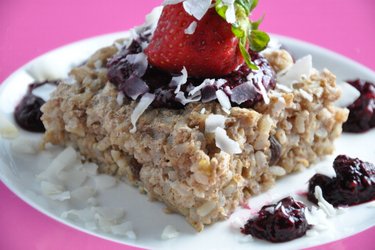 Sugar-Free Baked Brown Rice Cake with Chia Fruit Sauce
Share this recipe with a friend:
I bring you an easy recipe for this excellent baked brown rice cake without adding sugar, flour, or butter. This diet baked rice cake is made out of brown rice, which is, in contrast to the white rice, a significant source of insoluble fiber, vitamins and minerals. Brown rice is an ideal food for a healthy diet, so incorporate it to your diet menu and try the recipe for a tasty fit baked brown rice cake with chia fruit sauce right now.
One serving of this healthy baked rice cake with chia sauce contains approximately 310 kcal, with up to 13 g of protein and 9 g of fiber. The fat content was also reduced due to the use of bananas and applesauce compared to the classic recipe, so only 6 grams of fat comes out of one serving. Even though it is a diet recipe, this baked rice cake is sufficiently filling and very tasty.
The preparation of this healthy baked rice cake can be handled by any beginner in a kitchen. Chia seed sauce is also very easy to prepare - just mix chia seed with mashed or blended fruits. Then let the sauce sit for about 30 minutes so that seeds will soak the water and increase the volume to form a dense chia sauce.
Satisfy your taste buds with this fit baked brown rice cake and prepare it with a chia fruit sauce. Certainly you will not only please yourself, but also the entire family as well. If desired, you can also add in a fresh fruit, yogurt topping or even the popular nut butter.
Ingredients
300g (10.6oz) brown rice
3 cups water or milk
2 to 3 bananas
3 egg whites
2 egg yolks
5 Tbsp applesauce (sugarless)
2 tsp. cinnamon
raisins/plums/nuts/other fruit/shredded coconut (to taste)
1 tsp. vanilla beans or extract (optional)
150g (5.3oz) berries (strawberries, raspberries, blueberries…)
2 tsp. chia seeds (I recommend these)
Instructions
Cook rice in water or milk until tender.
When cooked, add mashed bananas, cinnamon, vanilla extract, applesauce, 2 yolks, and raisins/fruit/nuts, and stir properly.
If you want the cake sweeter, add more fruit and raisins.
In a different bowl, whisk egg whites until stiff peaks form and fold carefully into the rice mixture.
Put the rice mixture into a baking pan lined with parchment paper (if using silicone baking pan, omit the paper) and bake at 200 degrees Celsius (390 °F) for 30 to 40 minutes until golden.
To prepare the sauce, mix chia seeds with mashed fruit at least 30 minutes before eating.
Share this recipe with a friend:
| | | |
| --- | --- | --- |
| | Preparation time | 60 minutes |
| | Yields | 6 servings |
Nutritional information / 1 serving
Calories
310 Kcal
Carbohydrates
44 g
Fiber
9 g
Proteins
13 g
Fat
6 g
I am a fit food wizard nutritionist and I conjure up these healthy and tasty fitness recipes.
My goal is to show you that eating healthy can be easy-breezy.
Lucia Wagner
Comments