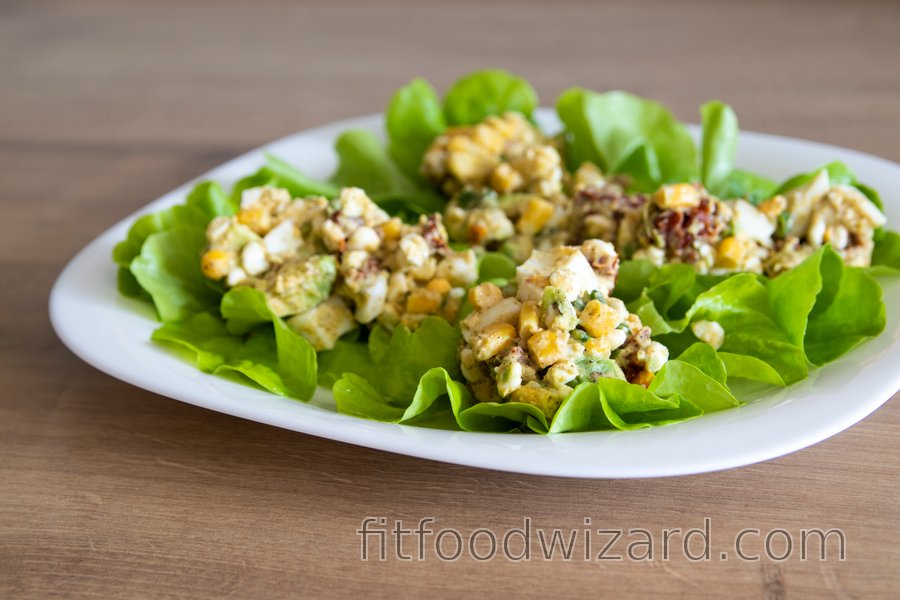 The Best Healthy Avocado Egg Salad
Try the best recipe for a healthy avocado egg salad that is full of protein, vitamins and minerals. It's one of my most favorite fit recipes at all. Try it for sure, for example, as a healthy breakfast or dinner.
Avocado is a many-sided fruit that can be used in spreads, salads or even healthy desserts. It plays the main role in this easy salad, and together with eggs they create a tasty and nutritionally valuable couple. Thanks to avocado, the salad is deliciously creamy and rich in potassium, fiber, magnesium, omega 3 as well as vitamins B6 and C. Thanks to eggs, a lot of proteins and plenty of micronutrients are smuggled into the salad. This salad from avocado and eggs with cottage cheese, corn and dried tomatoes is, in my humble opinion, the most delicious choice on how to enjoy a load of protein, fiber and healthy fats in one meal.
The best healthy avocado egg salad is very easy and quick to prepare. As little as 1 serving of this egg salad will fill you up very well. I also recommend to try it out for those who did not get to like avocado yet, because I believe you will enjoy it in this version. You can serve it in a lettuce leaf or with a fresh whole-wheat bread.
If you like both eggs and avocado, I'm sure this healthy salad will become your favorite.
Ingredients
4 eggs
1 ripe avocado
200 g (7.1 oz) cottage cheese
40 g (1.4 oz) corn
30 g (1.1oz) dried tomatoes
pinch of salt (I recommend this one)
pinch of garlic powder
pinch of ground black pepper
spring onion
lettuce leaves
Instructions
First, make hard boiled eggs in boiling water (cook them for about 8 minutes).
Let them cool, peel them, cut them into small pieces and place them into a bowl.
Next, toss in cleaned and finely chopped avocado, spring onion, cottage cheese, dried tomatoes, corn, salt and pepper.
Stir the salad thoroughly and, if necessary, season it to your taste.
You can serve the salad in lettuce leaves.
| | | |
| --- | --- | --- |
| | Preparation time | 20 minutes |
| | Yields | 2 servings |
Nutritional information/ 1 serving
Calories
400 Kcal
Carbohydrates
16 g
Fiber
8 g
Proteins
28 g
Fat
24 g