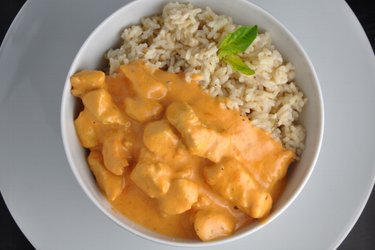 Turkey Breast Pieces in Creamy Tomato Sauce
Share this recipe with a friend:
Try to prepare these healthy turkey breast pieces in a delicious creamy tomato sauce for the lunch or dinner - you will not only please your belly but also your whole body. The recipe is low calorie and low carb, as it contains only 3 g of carbohydrates per serving.
It's one of my most favorite recipes with turkey meat. In turkey breasts, same as in chicken breasts, you will find a low amount of carbohydrates, fat and calories and a high content of protein on the contrary, what makes them a great ingredient for weight loss and various diets. It will fill you up without supplying your body with a pile of calories.
You will find an interesting combination of seasonings, such as ginger, cinnamon, black pepper, red paprika and coriander in this fitness meal. To soften the tomato sauce, use yogurt with at least 3% of fat, otherwise it may clot. Finally, you can also stir in some grated cheese, such as mozzarella, into the meat.
I recommend serving rice, quinoa, bulgur, or couscous along with this turkey dish, or if you want to keep low carbohydrate level in the meal, prepare a cauliflower "rice" that goes extremely well with this meal.
Ingredients
500g (17oz) turkey breasts (or chicken breasts)
1 Tbsp butter
1 onion
1 clove garlic
1 tsp. ginger spice
4 Tbsp tomato purée
1 tsp. ground red paprika
½ tsp. ground black pepper
½ tsp. ground coriander
1 tsp. sea salt (I recommend this one)
a pinch of cinnamon
juice of ½ lemon
170g (6oz) plain yogurt
100g (3.5oz) grated cheese (of your choice)
3 Tbsp sour cream (optional)
water (if necessary)
Instructions
Cut onion finely and sauté in butter until it turns brown.
Stir in chopped turkey breasts, spices, and salt.
Cover the pot and let the meat steam for approximately 20 minutes over medium heat while checking occasionally so as not to let it burn.
After about 20 minutes, pour in tomato purée with crushed garlic and lemon juice, stir properly and let cook for another 5 minutes.
If no stock is left, you can add some water.
Finally, stir in some grated cheese, let it melt, and remove the pot from heat.
Next, fold in yogurt or sour cream and serve, preferably with rice, bulgur, couscous, or quinoa.
Share this recipe with a friend:
| | | |
| --- | --- | --- |
| | Preparation time | 30 minutes |
| | Yields | 4 servings |
Nutritional information / 1 serving
Calories
170 Kcal
Carbohydrates
3 g
Fiber
0 g
Proteins
25 g
Fat
6 g
I am a fit food wizard nutritionist and I conjure up these healthy and tasty fitness recipes.
My goal is to show you that eating healthy can be easy-breezy.
Lucia Wagner
Comments
✉️ Send me your favorite recipe.
Do you like to cook healthy and want to publish your favorite recipe on Fit Food Wizard?
Email
it to me and I will be happy to try it and publish it.