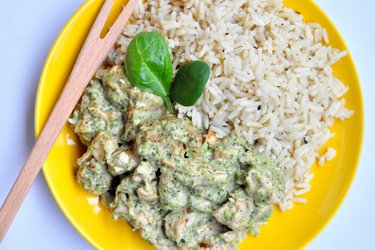 Fitness chicken sauté with broccoli-blue cheese sauce
Share this recipe with a friend:
Tasty fitness chicken sauté with broccoli-blue cheese sauce - a healthy lunch or dinner with a high protein content for the whole family. Try the chicken breast a little differently. It tastes great with this broccoli and blue cheese sauce and is enriched with nutrients. It is perfectly filling and at the same time not heavy on your stomach.
Chicken breasts can be prepared in a million ways. You do not have to season the meat itself. All you have to do is prepare a flavorful and delicious sauce for the meat. Try blending stewed broccoli together with blue cheese into a soft creamy puree and mix it together with the prepared chicken pieces. You will be surprised by the new fantastic flavor. In addition, the food is full of vitamins, minerals, and fiber. Another advantage of this fitness chicken sauté is that it is low-carb but has a high protein content.
One serving of this chicken sauté with broccoli-blue cheese sauce contains only 4 g of carbohydrates and also not too much fat. The food is perfect for all lovers of healthy diets and athletes, as it contains a really high amount of protein. You can serve it with your favorite side dish - whole wheat pasta, quinoa, buckwheat, or rice. However, if you want the recipe to remain low-carb, you can use celery fries ( Braised cod in lemon-garlic sauce with celery fries ) or cauliflower "rice" ( Low Carb Chicken Breasts with Carrot and Cauliflower "Rice" ) as a side dish.
Ingredients
800g of chicken breasts
1 onion
1 tbsp of olive oil (I recommend this one)
sea salt (to taste)
ground black pepper (to taste)
garlic powder (to taste)
For the sauce:
400g of broccoli
1 cup (250ml) of water
100g of blue cheese
milk (as needed)
2 cloves of garlic
sea salt (to taste)
Instructions
In a larger pot, cook finely chopped onion in hot oil until translucent.
Add sliced chicken breasts and stir until the meat turns pale.
Season the meat and let it braise on a lower flame for about 20 minutes. During braising, check the meat, stir it occasionally, and, if necessary, add a little water. Then salt the meat to taste.
In a second pot, pour 1 cup of hot water over washed broccoli cut into smaller pieces and braise it for about 10 minutes - until soft.
Afterward, blend the broccoli with the water that remained in the pot.
Stir blue cheese, crushed garlic cloves, and salt into the resulting puree. If necessary, add a little bit of milk.
When the meat is ready, combine it with the resulting broccoli sauce.
You can serve the meal with rice, millet, buckwheat, pasta, quinoa or alternatively low-carb side dishes.
Share this recipe with a friend:
| | | |
| --- | --- | --- |
| | Preparation time | 35 minutes |
| | Yields | 4 servings |
Nutritional information / 1 serving
Calories
370 Kcal
Carbohydrates
4 g
Fiber
4 g
Proteins
54 g
Fat
13 g
I am a fit food wizard nutritionist and I conjure up these healthy and tasty fitness recipes.
My goal is to show you that eating healthy can be easy-breezy.
Lucia Wagner
Comments