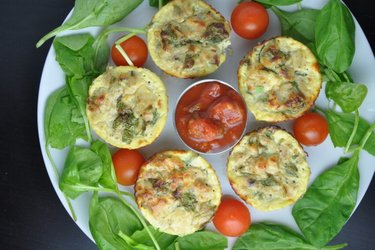 Healthy Egg Muffins with Tuna
Share this recipe with a friend:
The recipe for simple, satisfying and healthy egg muffins with tuna that taste so great.
Who wouldn't like to enjoy the rhapsodized muffins once in a while. However, not all of us have the sweet tooth, so with this recipe for healthy egg muffins with tuna, the savory meals lovers will be satisfied too.
I love the tuna in different ways, because it is juicy and healthy fish. It provides proteins and omega-3 fatty acids, but it also flavors the meal deliciously and highlights its taste. In combination with the egg, it is a real delicacy. Moreover, I added an irredeemable source of iron to the muffins, which is spinach. It gives a healthy color to this meal and required power to you.
If you are looking for a quick recipe for ** healthy savory breakfast** or a dinner with eggs and a high protein content, turn to these gluten-free fit egg muffins with tuna, which will definitely please you. You will only need 4 basic, commonly available ingredients. These healthy savory muffins are even low carbohydrate and low calorie, they contain only 48 kcal and 1 g of carbohydrates per piece - sounds good, doesn't it?
The recipe is really easy, and at the same time, able to fill the body up for a longer time. It is proven in the form of a dinner or as an afternoon snack you can grab to work, so you don't have to rush home, because you can easily satisfy your appetite with these tuna muffins.
Instructions
In a bowl, mix tuna with cottage cheese, eggs, fresh spinach, and spices.
For an even better taste, add in some grated cheese.
Put the dough into muffin cups (preferably silicone ones) and bake at 200 degrees Celsius (390 °F) for 30 to 35 minutes until slightly golden.
Share this recipe with a friend:
| | | |
| --- | --- | --- |
| | Preparation time | 40 minutes |
| | Yields | 6 servings |
Nutritional information / 1 serving
Calories
48 Kcal
Carbohydrates
1 g
Fiber
0 g
Proteins
8 g
Fat
2 g
I am a fit food wizard nutritionist and I conjure up these healthy and tasty fitness recipes.
My goal is to show you that eating healthy can be easy-breezy.
Lucia Wagner
Comments