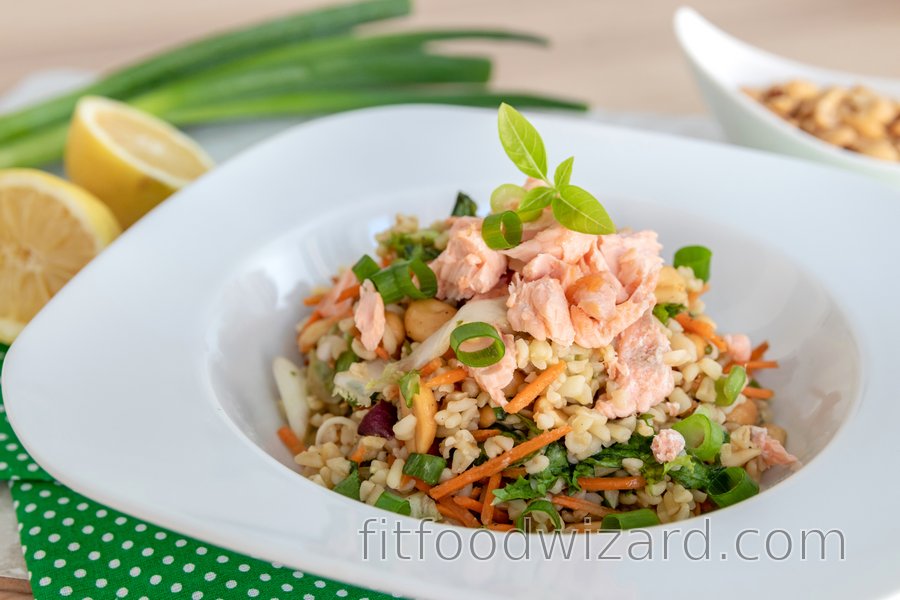 Tasty and healthy warm Asian salmon salad you will have on the table within 30 minutes. It contains nutritious salmon and avocados, crispy peanuts, bulgur, or quinoa, as well as a nice dose of vegetables.
Salmon recipes are one of my favorites, although, to be honest, I don't prepare them as often as I should. Also, almost every time I get up to prepare something with salmon, I have a dilemma of how to prepare it in a new way. Such warm salads are great because you can get creative with them. And this Asian-style salmon salad is delicious and I will definitely prepare it again.
The mix of Asian salad consists of carrots, cabbage (ideally red), iceberg lettuce, and leeks. You can prepare it either at home or buy it ready-made (packaged) in larger supermarkets.
I believe that all fans of salmon and a healthy lifestyle will fall in love with this nutritious warm Asian salad with pieces of salmon from their first bite. Bon appetite!
Tip: Don't want salmon right now? This salad tastes amazing even with roasted tofu. In the version without salmon, vegetarians and vegans can also enjoy this yummy recipe.
Ingredients
30g of peanuts
1 ripe avocado
1 spring onion
200g of salmon fillet
150g of Asian salad mix (carrots, iceberg lettuce, cabbage, leeks)
130g of dry bulgur of quinoa (I recommend this one)
for the sauce:
1/4 tsp of salt
juice from 1/2 of lemon
1 tbsp of balsamic or rice vinegar
pinch of ground black pepper
Instructions
Wash the salmon under running water and place it into a baking dish. You can lightly salt it and season it with ground black pepper.
Bake the salmon covered with foil for 15 minutes at 200 degrees.
Boil bulgur or quinoa in double the volume of water until soft (approximately 12 minutes).
In a bowl, mix the ingredients for the sauce together.
Add an Asian mix of vegetables, finely chopped avocado, chopped spring onion, and peanuts.
In the end, add boiled bulgur or quinoa and small pieces of chopped baked salmon.
Mix the salad well so that its flavors combine and you can serve immediately.
| | | |
| --- | --- | --- |
| | Preparation time | 35 minutes |
| | Yields | 2 servings |
Nutritional information/ 1 serving
Calories
635 Kcal
Carbohydrates
61 g
Fiber
21 g
Proteins
40 g
Fat
26 g