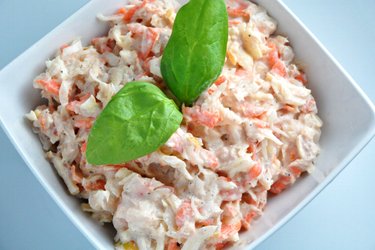 Tuna Salad with Sauerkraut, Carrot and Apple
Share this recipe with a friend:
You will eliminate the cravings for something easy and healthy, but original and tasty at the same time with this fit tuna salad with sauerkraut, carrot and apple recipe. An unusual combination of ingredients gives this salad a delicious and interesting sweet and sour flavor. Moreover, it's full of vitamins, proteins, and its taste will surely surprise you.
Tuna salad with sauerkraut, carrot and apple can be prepared with a healthy tuna that contains omega-3 fatty acids and proteins beneficial for your body. With its composition it benefits heart, brain and eye activity and effectively prevents chronic inflammations. The tuna flavor in this delicate salad is non substitutable.
Sauerkraut proudly represents the vitamin bomb in this recipe. It strengthens the body's immune system and especially in the autumn, it is able to maintain its beneficial effects until spring. And that's always worth it. Carrot does not disappoint with its benefits either and if you add it regularly into your diet, it will help improve your cognitive abilities and you will possibly start to remember things you always kept forgetting. Excellent apple will add fresh and sweet flavor to the salad and will support the digestion, help to lower the cholesterol and is suitable for diabetics as well.
This healthy tuna salad with sauerkraut, carrot and apple can be savored easily with ham and grated cheese, to your taste. If you love creamy salads, add in some Greek yogurt and enjoy.
Ingredients
150g (5.3oz) sauerkraut
2 carrots
1 apple
150g (5.3oz) plain Greek yogurt
150g (5.3oz) tuna in water (I recommend this one)
100g (3.5oz) high-quality ham
50g (1.7oz) grated cheese
ground black pepper
sea salt (I recommend this one)
Instructions
Rinse sauerkraut properly, get all the water out and put into a bowl.
Grate apple and carrots and add them into the sauerkraut mixture.
Then, fold in cut ham, tuna, and grated cheese.
Pour plain Greek yogurt over the salad and stir thoroughly.
Lastly, season with sea salt and black pepper.
This salad is delicious as is, but also goes well with whole-wheat bread or as a garnish to other meals.
Share this recipe with a friend:
| | | |
| --- | --- | --- |
| | Preparation time | 5 minutes |
| | Yields | 4 servings |
Nutritional information / 1 serving
Calories
175 Kcal
Carbohydrates
12 g
Fiber
4 g
Proteins
20 g
Fat
5 g
I am a fit food wizard nutritionist and I conjure up these healthy and tasty fitness recipes.
My goal is to show you that eating healthy can be easy-breezy.
Lucia Wagner
Comments
✉️ Send me your favorite recipe.
Do you like to cook healthy and want to publish your favorite recipe on Fit Food Wizard?
Email
it to me and I will be happy to try it and publish it.